Dankichi Hama (浜 団吉, Hama Dankichi) is a boxing trainer and former prize-fighter. He is a friend and former rival of Kamogawa Genji and Nekota Ginpachi. He is Alexander Volg Zangief's trainer and a former trainer for Sanada Kazuki. Dankichi harbours deep feelings of rivalry towards Kamogawa, and strives to one day train a boxer that can defeat Makunouchi Ippo or Takamura Mamoru.
Background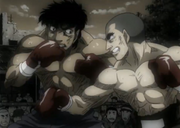 In his younger days, Dankichi boxed along with Kamogawa and Nekota, but never managed to reach their level, partially due to his unusually fragile jaw. Nevertheless, he is a brilliant tactician who, since having left Japan for Mexico, is renowned for his successful training of several champions, including Sanada Kazuki.
History
Part I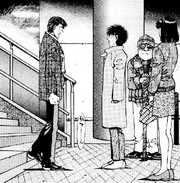 After watching Kobashi Kenta defeat Hayami Ryūichi for the vacant JBC junior featherweight title match, Dankichi met JBC featherweight champion Makunouchi Ippo when the champion caught him as he was about to fall from the stairs. Dankichi revealed to Ippo that the reason why the previous JBC junior featherweight champion relinquished his belt to challenge a second weight class, specifically the featherweight class. He then introduced Ippo to former JBC junior featherweight champion Sanada Kazuki. As Ippo went to shake hands with Sanada, Dankichi stopped them as he believed that enemies don't shake hands.
The next day, Dankichi visited Kamogawa Genji and Ippo at the Kamogawa Boxing Gym. There, he revealed to them that his boxer, Sanada, would be fighting Kamogawa's boxer, Ippo, seeing their match as a way to fight Kamogawa once again while noting that it was not for revenge for breaking his jaw. After expressing his enjoyment of meeting Kamogawa in the ring again and that Sanada had already mastered the Hien, he left while warning them about a second swallow, the Tsubame Gaeshi. Later during Sanada's sparring session, Dankichi noted that Sanada learned about 80% of the Tsubame Gaeshi. Dankichi believed that the technique would slip through any guard, even the Peek-a-Boo Style.
Three weeks until the match, Dankichi held a public sparring session. Dankichi informed Fujii Minoru that they plan to show him everything, and not to let his eyes stray for an instant, as if the sparring partner can last through the end, he will be able to see everything. During the spar, when Sanada dodged the sparring partners punches, Fujii became confused when Dankichi claimed that he could gauge when his opponent is about to strike and when it i safe to go forward. Dankichi claimed he was surprised at first too, explaining that from the responses he receives from his own punches, he can determine the condition of his opponent's body. The spar then ended before Sanada could show the Tsubame Gaeshi.
Later, Nekota Ginpachi called Dankichi and Kamogawa together for a reunion at Sugar Ray's to talk about the past. Dankichi and Kamogawa did not know they would meet each other there and began to leave. Nekota then managed to get them to stay by making them feel bad as the three of them haven't talked together in decades. When Kamogawa asked Dankichi why he came back to Japan, Dankichi revealed his beliefs about Japanese boxers not being the best in the world and when a Japanese went against a Mexican, his theory was proven. Dankichi then mentioned a certain Mexican boxer with close to perfect offence and defence and over sixty wins, wanting a Japanese man to defeat him, the WBA featherweight super champion, Ricardo Martinez. Dankichi believed that as Ippo continued to go higher in boxing, he would eventually run into him. With Kamogawa thinking it is too early for Ippo to take on the world, Dankichi told him that his boxer would get there sooner then while expressing how lucky he was to find Sanada who had such potential.
After the weigh-in, Dankichi mentioned that despite Sanada's thinking that he did not make it harder for Ippo with a lighthearted handshake, he unintentionally put pressure toward the champion by making him doubt his own strength. On the day of the match, Dankichi was one of Sanada's cornermen for his match. When Sanada lost and announced his retirement, wanting to focus on his medical career, Dankichi had faith that Sanada would make for a wonderful doctor. Before leaving Japan by plane, he was approached by Kamogawa and Nekota. After Dankichi and Kamogawa gave their thoughts about their match, Dankichi leaves while claiming that he had not given up and will meet Kamogawa in the ring again.
Part II
Dankichi took Alexander Volg Zangief under his wing in the United States of America as Volg went out of retirement after his mother passed away. Dankichi trained Volg as he became the sixth ranker in the IBF junior lightweight division.
Dankichi was Volg's chief second when he faced against the fourth ranker in the IBF, Eric Thompson in Las Vegas. The match ended in Volg's victory by knockout in the middle rounds.
At a boxing gym in New York, Dankichi came across Miguel Zale, who wanted his boxer that was going to go fight Ippo soon, Wally to spar with his boxer, Volg. Dankichi was Volg's second during the spar and was shocked to see how fast Wally was and managed to hit Volg in a dual exchange when Volg thought he trapped him in a corner, causing Volg to end the spar before he got serious. Afterwards, Dankichi contacted Kamogawa to warn him about Wally, claiming that Ippo will not be able to trap Wally at the corner, as that is where he is most effective. Kamogawa wanted to know what he means, however, Dankichi ended the call after giving Kamogawa a moment to think of it himself.
When the IBF junior lightweight champion, Mike Elliot had a match coming up, his challenger had to drop out because he hurt himself a week before the match. Needing someone to fight him since the tickets were already sold out, Volg was offered a title match against the champion. Dankichi and Volg accepted immediately, and Dankichi informed Kamogawa by phone that this was probably their best chance for a title match due to being foreigners, and Volg, a dangerous opponent. When Volg's IBF junior lightweight title match against Elliot arrived, Dankichi went to the Caesars Palace. Dankichi went to the ring to be Volg's chief second and, before the match began, advised him to keep his wild side from coming out until he gets used to the match since he barely had time to get ready by using his left and find his range. After the first round, Dankichi was surprised to see how beaten Volg looks, but told Volg that he made the right decisions regardless. After Volg claimed that while Elliot's punches are strong, he already faced the sharpest spear and the most durable shield, Dankichi saw that he will not give up, so he will not give up either. Dankichi gave Volg a leg massage and instructed him to find a way to avoid Elliot and attack at a distance until he has time to recuperate and get his sense for the ring back, adding that he is not alone.
During the second round, Dankichi was thrilled to see Volg using the Hien against Elliot, believing that the punch chose him. After the second round, Dankichi gave Volg a leg massage and complimented on his use of the Hien, adding that it was more effective since he showed sudden resistance against Elliot, which adds to the Hien's natural tenancy of confusing opponents. Dankichi stayed in the ring for a bit, giving Volg a leg massage despite the seconds out being called until he stopped and mentioned to Volg that it was not just the massage that go him back up, as he left for the third round. After the third round, as Volg decided that he has to win by knockout since he can't count on a decision in a foreign country, Dankichi instructed him to keep using the Hien even though Elliot figured out the motion, predicting that there is hope lying beyond Volg enduring his mind and body getting chipped away by Elliot. After the fourth round, Dankichi praised Volg's efforts for setting the plan in motion for the fifth round, wanting him to finish the job in the next round. When Volg told Dankichi the phrase he feels that best describes his favourite boxer, "Yamato-damashii", Dankichi figured that Volg is prepared for the worst. During the fifth round when Volg downed Elliot for the first time, Dankichi was enraged and yelling at the referee when he saw him doing a long count and helping Elliot up before continuing the match. After Volg downed Elliot a second time, the match ended, as Elliot's second entered the ring, making Volg the new IBF junior lightweight champion. Dankichi helped Volg out the ring and told him that it is the last time he will spoil him since he is now the world champion.
Part III
Since Wally is going to be fighting WBA featherweight world champion Ricardo, Volg was requested by Wally's side to spar with him. At the Marvelous Gym, Dankichi greeted Wally and Miguel as they arrived. Since Dankichi was worried about Volg and Wally being serious in their spars before their match, as Volg has a match to defend his IBF title a second time as a semi to Wally's main event, he informed Miguel that he prepared three world rankers to act a sparring partners as well. Since Wally will be with Volg in the training camp, Dankichi welcomed Wally to "Team White Fang".
During a spar at the Marvelous Gym, Volg and Wally had to be stopped by their trainers as they were having an argument about how Wally is irritated that Volg keeps telling him he can't do what he requests. After Volg and Wally leave the gym, Dankichi mentioned to Miguel that he understands that he wants to take a fighter rooted in freedom and push his strengths to the limit, but, remembering Bryan Hawk, warned that even the most gifted geniuses fall eventually if they get too wild. Dankichi used Kamogawa's words to point out Miguel's arrogance on seeing his boxers as raw material, pointing out that trainers are just lucky enough to encounter the most beautiful of material. Dankichi asked Miguel what he thinks Wally's chances are against Ricardo, but upon hearing his answer about disregarding chances and him describing Wally as his sun that will shine brighter against Ricardo to illuminate the rest of his years, he did not get what he meant, wondering if Kamogawa would.
Match History
Match History
Post WWII - "Prize Fighter"
#
Result
Record
Date
Opponent
Location
Time
Type
Notes
?
LOSS
?-6-0
1947
Ralph Anderson[3]
Tokyo, Japan
1(15)
KO
Lost By Counter
Sent to the Hospital
?
WIN
?-5-0
1947
Unknown[4]
Tokyo, Japan
?(15)
KO
N/A
?
LOSS
?-5-0
194?
Kamogawa Genji
Tokyo, Japan
?(15)
KO
Glass Jaw was caused 2nd Rematch
?
LOSS
?-4-0
194?
Nekota Ginpachi
Tokyo, Japan
?(15)
KO
3rd Rematch
?
LOSS
?-3-0
194?
Kamogawa Genji
Tokyo, Japan
?(15)
KO
N/A
?
LOSS
?-2-0
194?
Nekota Ginpachi
Tokyo, Japan
?(15)
KO
2nd Rematch
?
LOSS
?-1-0
194?
Nekota Ginpachi
Tokyo, Japan
?(15)
KO
Unknown
Retired
Appearance
As a young adult, Dankichi had black hair in a shaved hair style along with black bushy eyebrows and a black eye colour. He also had a muscular build. Older, Dankichi grows out his hair, which is short, and turned white along with his bushy eyebrows. Dankichi also grows a full white beard and moustache. With age, his face has gained wrinkles and he begins walking with a brown cane.
In his younger days, Dankichi wore a beige buttoned shirt while being Kamogawa's second against Anderson. In his older appearance, Dankichi wears a green beanie with a dark green shirt under a green winter coat and an orange scarf. As a corner man with Sanada, Dankichi wears a long sleeved shirt with "DYNAMITE GLOVE" on the front and back along with his green beanie.
Personality
Frightening to Mashiba Kumi and having the same intensity as Kamogawa,[5] Dankichi can be seen as stern and intolerable to some. However, Dankichi has a passion for boxing and cares about his students, wishing Sanada the best when he decided to retire and focus on his medical career. Dankichi cares about Japan and boxing and keeps his pride as a Japanese from his younger days, wishing to have a Japanese boxer to take down the WBA featherweight super champion Ricardo Martinez.[6] He dislikes it when younger individuals look down on the elderly, thinking as if they treat them as invalids.[7] He takes boxing seriously, believing that the two boxers fighting each other should be enemies even outside the ring, not even a handshake between the two.
His rivalry towards Kamogawa, who he deems as his eternal rival,[8] is something he holds dear from the post-WWII days and something that he still keeps with him, using his student to fight Kamogawa's student as a way to fight Kamogawa, even if his student only inherited Kamogawa's spirit. After Sanada lost to Ippo, Dankichi hopes to meet Kamogawa in the ring again, continuing their rivalry.
Boxing Abilities
Dankichi is a former boxer from the days when boxing was called "prize fighting". He was revered as a true prodigy.[9] Kamogawa referred to him as a swallow, flying around the ring corner to corner like one. His abilities made boxers such as Kamogawa and Nekota fight for their life even when Dankichi lost.[10] Dankichi was also known to not be a one-dimensional boxer.[11] Dankichi's Sunday punch was the Hien.
Dankichi gained a glass jaw when Kamogawa landed a punch into his jaw, shattering it into five pieces, making him extremely weak in his jaw.[12] This did not stop Dankichi from boxing, however, he retired after losing to Ralph Anderson.
Intelligence
Kamogawa's plans that would put him in a strategic advantage against Dankichi, failed against him, making Dankichi an intelligent fighter.[13]
As a travelling trainer going around the world to find boxers to train, Dankichi is known around the world, highly ranked in Mexico, as a trainer that can train boxers that can rival world rankers.[14] While in Mexico, Dankichi developed the Tsubame Gaeshi, which he then trained Sanada to use. When Dankichi trained Sanada, his teachings made Sanada surpass the data that Kamogawa had on him before Dankichi taught him.[15]
Gallery
References