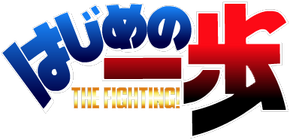 Hajime no Ippo (はじめの一歩, Hajimenoippo), also known as Hajime no Ippo: The Fighting and Fighting Spirit, is a manga by Morikawa Jouji with an anime TV adaption. It follows the story of the main character, Makunouchi Ippo, who started boxing to answer one question: "What does it mean to be strong?".
Hajime no Ippo literally means The First Step, but it is also a pun on main character Ippo's name (hajime meaning "beginning" or "first" and Ippo meaning "one step").
Manga
See also: Manga Guide
The manga began serialization in Kodansha's Weekly Shonen Magazine in 1989, Issue 43, and is currently still running. Weekly Shonen Magazine goes on sale every Wednesday, each week in Japan unless there is a double issue for Holidays (Christmas, New Years, or Golden Week in late April/early May.)
In 2012, George Morikawa released volume 100 of Hajime No Ippo.   A website was set up to help promote the event.  Only 23 years after he started the series.  In Issue 1 of Weekly Shonen Magazine of 2013 (published on December 5th, 2012), Morikawa reached Round 1000 in volume 104.   Friends and fellow mangaka of Morikawa helped celebrate the occasion.   Morikawa did a few autograph signings, where he displayed some of his work.
In 2015, Kodansha started publishing their various magazines in a digital issues. However, Morikawa didn't want his series to be included with it. So Hajime No Ippo is not included with digital Weekly Shonen Magazine released online, or digital volumes sold.   Hajime no Ippo manga currently has 123 volumes and 1249+ chapters and counting.
In 2019, Hajime No Ippo is celebrating its 30th year of serialization.
Hajime No Ippo manga Around the World
Country
Name
Licensed By
Cover
China
The Fighting (第一神拳)
Dongli

France
Ippo, La Rage De Vaincre
Kurokawa

South Korea
The Fighting (더 화이팅)
Chance Comics

Thailand
ก้าวแรกสู่สังเวียน
Vibulkij Comics
Anime
See also: Anime Guide
The anime series is produced by Madhouse, Nippon TV and VAP, directed by Satoshi Nishimura. The first season with 76 episodes, Hajime no Ippo: The Fighting!, ran on the Nippon Television Network from October 3, 2000 to March 26, 2002.
In April 2003, the first season was released in North America by Geneon (called Fighting Spirit). (Note - Episode 76 was not included since that was a DVD extra in Japan where it was not dubbed.) A TV film and OVA was produced in 2003 before releasing a second season, Hajime no Ippo: New Challenger, in January 2009 until June 2009. The third season, Hajime no Ippo: Rising was then released in October 2013 until March 2014.
The Hajime no Ippo anime currently has three seasons, one TV film and one OVA.
Reception
The flagship series of Weekly Shonen Magazine, Hajime no Ippo has sold over 94,000,000 copies as of 2013.[1] Each chapter of the series is marked as Round (Round 1, Round 2, etc). In 1991, Morikawa won the 15th Kodansha Manga Award for Shonen Manga.
Weekly Shonen Magazine published the 1000th chapter of Hajime no Ippo in its Issue 1-2013. Other mangakas such as Aoyama Gosho-sensei of Detective Conan, Takehiki-Inoue of Slam Dunk, Kentaro Miura of Berserk, Takahashi Rumiko-sensei of Ranma 1/2 and Inuyasha gave their greetings. As of 2013, Hajime no Ippo has been collected into 105 volumes. It has surpassed Koutarou Makaritooru (ended at 51 volumes) as the longest running series in Shonen Magazine history, and is the 2nd longest running sports manga still being serialized (the first is Abu-san, which has been in serialization since 1973).
Characters
Main Article: List of Hajime no Ippo characters
Hajime No Ippo Characters
Kamogawa Boxing Gym
Friends of Ippo
Rivals
References