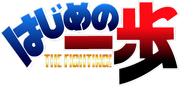 Hajime no Ippo (はじめの一歩, Hajime no Ippo), also known as Hajime no Ippo: The Fighting!, is a manga by Jōji Morikawa with an anime TV adaptation. It follows the story of the main character, Ippo Makunouchi, who started boxing to answer one question: "What does it mean to be strong?".
Hajime no Ippo literally means "The First Step", but it is also a pun on main character Ippo Makunouchi's name (Hajime meaning "beginning" or "first" and Ippo meaning "one step").
Series Events
2019 - Hajime no Ippo's 30th Anniversary
On April 24, 2019[1], it was announced that Morikawa was sponsoring a featherweight tournament for featherweight boxers with Dangan Promotion to help promote boxing and 30 years of Hajime no Ippo, where 8 boxers will take part to win a prize of 1 million yen. On August 2, 2019,[2] it was announced that an art exhibit would take place in Tokyo at the Seibu Shibuya Store - Movida Building in the Special Venue on the 6th floor to celebrate the 30th anniversary of Hajime no Ippo from November 16, 2019 to December 1, 2019.
Hajime no Ippo took part of an exhibit, Sports x Manga, that combines sports manga and technology to help promote the 2020 Tokyo Olympics and Paralympics from 7/13/19 to 9/29/19.[3] It was just one of a hundred different sports manga series involved with the event, where it had interactive exhibits. The Hajime no Ippo exhibit offers a person the chance to catch ten leaves with jabs.
It was revealed in the issue 36-37 of Weekly Shōnen Magazine in 2019 that Hajime no Ippo was inspiring its first stage play, Hajime no Ippo: The Glorious Stage!! in January 2020.[4] The play featured the beginning of the manga.
In celebration of the series' 30th year of serialisation, a series of books called Best Bout of Hajime no Ippo! were published based on the favourite matches and spars in the series.
2020
On January 17, 2020,[5] it was announced that an art exhibit in Miyagi was going to be taking place at the Ishinomori Manga Museum in the exhibition room on the second floor from February 22, 2020 to April 12, 2020.
On March 2, 2020, it was announced that in response to the spread of the new coronavirus infection, the temporary closure of the Ishinomaki Mangattan Museum from March 3 to May 31. The "Hajime no Ippo: The Great Original Art Exhibition" will also be suspended during this period. The exhibition was extended from June 1, 2020 until August 30, 2020, where additional measures against colds and seasonal flu were taken. Also due to coronavirus, the finals for Morikawa's featherweight tournament was delay until August 22, 2020, where they planned to Crowd Fund the event in order to cover the various costs.
Hajime no Ippo reached its 1300th chapter on May 27, 2020 in the Weekly Shōnen Magazine's 26th issue. In celebration, a "Wonderful Present Campaign" was held, where buyers of the issue would take part in a lottery to win prizes consisting of Quo Cards and Clear Files of Hajime no Ippo illustrations. A total of 150 people can win, with a lucky 100 people winning a set of two Quo Cards of the Weekly Shōnen Magazine's 26th issue cover and colour double page of Round 1300.[6]
On July 20, 2020,[1] the official coloured t-shirts that are themed for the Hajime no Ippo 30th Anniversary Featherweight Tournament was sold at the BASE until August 10, 2020.
On August 19, 2020, it was announced on Twitter that Morikawa collaborated with "beLEGEND" in selling a Hajime no Ippo themed protein bodybuilding supplement called the "Dempsey Roll Flavor", along with t-shirts that have the promotional artwork drawn by Morikawa on them and a t-shirt with a manga panel of a failed weight control Takamura with the line "TOMORROW IS A CHEATDAY" on the bottom. Both the "Dempsey Roll Flavor" protein bodybuilding supplement and the t-shirts released on August 26, 2020. There were also a limited quantity of 6,000 Hajime no Ippo themed bags for early buyers.
2021
2022
From January 17, 2022 to February 13, 2022, a "Hajime no Ippo Exhibit" was held at the Asahiya Shoten Namba CITY Store in Osaka, featuring various goods.[2] On January 27, 2022, it was announced that the custom made fighting wear brand "FUEGO" was collaborating with the Hajime no Ippo series to make Hajime no Ippo themed boxing shoes. It was sold at every Isami store starting from February 22, 2022.[3]
Manga
See also: Manga Guide
The Hajime no Ippo manga currently has 133 volumes and 1350+ chapters and counting.
The manga began serialisation in Kodansha's Weekly Shōnen Magazine in 1989, Issue 43, and is currently still running. Weekly Shōnen Magazine goes on sale every Wednesday, each week in Japan unless there is a double issue for holidays (Christmas, New Years, or Golden Week in late April/early May.) Each chapter of the series is marked as a "Round".
In July 17, 2012, Morikawa released volume 100 of Hajime no Ippo. A website was set up to help promote the event. Only 23 years after he started the series. In December 5th, 2012, the first 2013 issue of Weekly Shōnen Magazine, Morikawa reached Round 1000 in volume 104. Friends and fellow mangaka of Morikawa helped celebrate the occasion. Morikawa did a few autograph signings, where he displayed some of his work.
In June 2015, Kodansha started publishing their various magazines in a digital issues.[7] However, Morikawa didn't want his series to be included with it. So Hajime no Ippo was not included with digital Weekly Shōnen Magazine released online, or in digital volumes sold. However, in July 2021, the series began going digital on the magazine.[8]
Hajime no Ippo Manga Around the World
Country
Name
Licensed By
Cover
China
The Fighting (第一神拳)
Dongli

France
Ippo, La Rage De Vaincre
Kurokawa

South Korea
The Fighting (더 화이팅)
Chance Comics

Thailand
ก้าวแรกสู่สังเวียน
Vibulkij Comics
Anime
See also: Anime Guide
The anime series is produced by Madhouse, Nippon TV and VAP, directed by Satoshi Nishimura. The first season with 76 episodes, Hajime no Ippo: The Fighting!, ran on the Nippon Television Network from October 3, 2000 to March 26, 2002.
In April 2003, the first season was released in North America by Geneon (called Fighting Spirit). (Note - Episode 76 was not included since that was a DVD extra in Japan where it was not dubbed.) A TV film and OVA was produced in 2003 before releasing a second season, Hajime no Ippo: New Challenger, in January 2009 until June 2009. The third season, Hajime no Ippo: Rising was then released in October 2013 until March 2014.
The Hajime no Ippo anime has three seasons, one TV film, and one OVA.
Reception
The flagship series of Weekly Shōnen Magazine, Hajime no Ippo has sold over 100 million copies as of 2022. It reached 100 million sometime in 2021.[9] In 1991, Morikawa won the 15th Kodansha Manga Award for Shōnen Manga.
Weekly Shōnen Magazine published the 1000th chapter of Hajime no Ippo in its Issue 1-2013. Other mangakas such as Aoyama Gosho of Detective Conan, Takehiki-Inoue of Slam Dunk, Kentaro Miura of Berserk, Takahashi Rumiko of Ranma 1/2 and Inuyasha gave their greetings. It surpassed Koutarou Makaritooru (ended at 51 volumes) as the longest running series in Shōnen Magazine history, and, up until 2014, was the 2nd longest running sports manga still being serialised (the first was Abu-san, which was in serialisation since 1973).
Main Characters
For a full list of Hajime no Ippo's characters, see the category: Characters
Hajime no Ippo Main Characters
Kamogawa Boxing Gym
Friends of Ippo
Rivals
Other links
See about the Video Games
For

List of Matches in Hajime no Ippo

Got a question related to Hajime no Ippo? Visit the "Questions Page", to see if it has been answered.
References