The Lallapallooza Arc, also known as Strong Arm Showdown Arc, is the fourteenth story arc in the series and the fourth in the National Champion Road Saga.
Makunouchi Ippo watches Sendō Takeshi's second title defence against Shigeta Akira. When Sendō won, Ippo believed the Dempsey Roll to be sealed. Ippo and Sendō then began training intensely for their match that has more at stake than the title. The two then fight in a match that shakes the Kōrakuen Hall.
Summary
JBC Featherweight Title Match - Sendō Takeshi VS. Shigeta Akira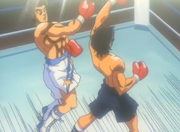 On the train to Osaka, Ippo and Kamogawa discuss the odds of Sendō winning against Shigeta Akira. When they arrive to the Osaka Prefectural Gymnasium, they are met with an old woman before the match who they discover is Sendō's grandmother. Just as Sendō's second JBC featherweight title defence match against the confident Shigeta is about to begin, Ippo has to leave the seats to take the grandmother to the bathroom. When Ippo returns with the grandmother, he is shocked to witness Sendō getting hit in a one-sided fight in the first round. When asked what he would do against Shigeta, Ippo tells Kamogawa his close-ranged way of going against the Southpaw's right jabs, however Kamogawa notes that the difference between Ippo and Sendō is that Sendō attacks in middle range, with middle range being in Shigeta's favour. Sendō uses a left Smash, however Shigeta parries it. Shigeta takes advantage of Sendō's shocked state and launches an offence until the gong to end the first round sounds. Sendō is flustered of the thought of Shigeta researching him and countering his Smash, while Shigeta remains confident, thinking how both Sendō and Ippo merely as boxers with just strength.
Round two begins, and Sendō attacks, missing Shigeta who is able to land right jabs on the champion. Sendō manages to get in a right body blow which Shigeta thought he could take but buckles over. When Sendō gets hit by Shigeta's right hook and has a bad reaction to it, he clinches Shigeta before he could land a follow-up. This causes Shigeta tell Sendō in his ear if that is all he got. Sendō breaks out of the clinch, angered at Shigeta's remark. As Shigeta continues to land hits on Sendō, who attacks recklessly due to the remark, Kamogawa comes to a conclusion that the reason Shigeta's right is so powerful, is that he used to be a right-handed fighter before becoming a Southpaw, ultimately making his right jab a straight. The second round ends with Sendō being saved by the gong and Shigeta making a victory pose. With Sendō visibly upset, Kamogawa understands why, as not being able to do anything in front of his fans is what hurts him the most. The champion's grandmother however, condemns her grandson's reaction, suggesting that he should forget the embarrassment and answer his fans' call and try his best to the end. Both fighters leave the corner to continue that match with Sendō in anger and Shigeta wishing to give Sendō's fans more of the same.
When the third round begins, Shigeta attacks Sendō, who is unable to counter the southpaw challenger. Sendō clinches again, and Shigeta says to Sendō how Ippo and him are nothing special. When the clinch breaks, Shigeta attempts to hit Sendō with an overhand, but Sendō dodges and, before Shigeta could throw another punch, Sendō dashed in close range and threw a body blow that downs Shigeta. Kamogawa wonders how Sendō's speed increased vastly until he notices Sendō's bulkier-than-usual build on his calf muscles. Kamogawa deems Sendō's trainer to be no ordinary man by knowing the limits of strength boxing and targeting the lower area. When Shigeta gets up, he plans to finish the match with a right Cross Counter. His attempt failed as Sendō stepped in faster than Shigeta thought he would. Sendō continuously hits the defenceless Shigeta until the referee stopped him and Shigeta crumbles down in a corner. With Sendō's second title defence win, he walks over to the downed Shigeta and, due to Shigeta's earlier remark, proclaims that that is what he's got. Kamogawa tells Ippo that Sendō broke him, and that Shigeta's trainer's actions destroyed him.
During an interview in the ring, Sendō announces to his fans that he will be fighting Ippo in a rematch in the Kōrakuen Hall, claiming that it will make up for his performance of his second title defence match. He then hands Ippo the mic. After much aggression from Sendō's fans, Ippo tells everyone that he wishes to spend his twenty-third birthday in a good mood by winning the title match which is close to his birthday, gaining respect from the crowd. Before leaving the stadium, Kamogawa decides to visit Shigeta's room with Ippo to check on him. While Shigeta's trainer regrets not stopping the match sooner, Shigeta hopes to do better next time. As Ippo and Kamogawa walks away from the stadium, Ippo believed Shigeta to be in better condition than he thought, however Kamogawa notes Shigeta's reaction to his trainer's hand coming towards him was a sign of Punch Eye. Kamogawa warns Ippo of Sendō's ability to implant fear into his opponent, becoming a monstrous champion. Kamogawa claims that Ippo has also changed after his first time he fought Sendō and went to the training camp, urging him to prepare for his title match in November.
Ippo's Dojo Duels
While thinking how Sendō sealed his Dempsey Roll, Ippo gets a phone call from Kumi, who wanted to ask him something. Kumi gets interrupted and has to leave the phone, but before the call ended, Ippo asks her to go somewhere with him, which she agrees to. Umezawa and Hiroko who were eavesdropping gives Ippo a dating magazine with dating spot suggestions. Ippo decides to go to the Shimono Zoo with Kumi. While seeing the animals and comparing some with people they know, Ippo stops by a tiger, who he compares to Sendō, before getting urinated on by the animal. After getting a change of clothes, Kumi guesses that Ippo was thinking about boxing then. Ippo apologises, but Kumi admits she can not try to stop a boxer to not think about boxing. Kumi then apologises for leaving an "idiot" sign outside the gym, as she left it there because Ippo gave his autograph to another girl besides her despite their earlier conversation. To make up for it, Ippo promises that the first autograph he gives as the JBC featherweight champion, will be to her.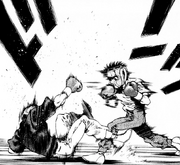 Later, Ippo goes to the Yamaguchi Chiropractic and, in order for his previously hurt fist to not get hurt again, Yamaguchi prepares to give him a massage. When Ippo undresses, she notices his back muscles got bigger. She notes that while he is strengthening his muscles, strengthening his bone is a more complex process, with greater power leading to greater risks of injuring his fist again. To prevent this, she gives him a shock absorption rubber to put in his bandages. As instructed by Kamogawa, for five days, Ippo goes to different gyms to spar against opponents from different weight classes. Ippo successfully knocks out a junior lightweight, junior featherweight, lightweight, featherweight, and a welterweight. Ippo goes back to the Kamogawa gym where Aoki ends Ippo's knockout streak. Fujii then enters the gym, commenting on Ippo's recent spar sessions and mentions that Iimura Mari went to Osaka for research.
Sendō's Dempsey Roll Counter
Lallapallooza - JBC Featherweight Title Match - Sendō Takeshi VS. Makunouchi Ippo
Trivia
The "Strong Arm Showdown Arc" (豪腕対決編) name was taken from Best Bouts book Makunouchi Ippo VS. Sendō Takeshi II.