Makoto Maezono (前園 真, Maezono Makoto), is a non-recurring character in Hajime no Ippo.
He is a featherweight professional boxer who is a Southpaw. He was first mentioned in the All Japan Rookie King Tournament II.
Part II
Maezono comes with Itagaki's generation of boxers. He started his career as a promising prospect and stood out more than everyone during the West Japan Rookie King Tournament. He made it all the way to the finals, where everyone was expecting him to win. However he completely lost by 1st Round K.O. to Hoshi Hiroyuki, kouhai of Sendō Takeshi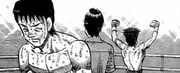 Maezono took part in the Featherweight Class A Tournament where he was matched up against Fukui in the 1st Round of the tournament. The bout came down to a close decision and Maezono emerged as the winner. After winning that match he faced Saeki Takuma, the Speed Star that gained a free pass in the first round due to his high ranking in the JBC Featherweight. He was KO'ed in the 5th Round and with this his way to the tournament was put to an end.
Match History
Match History
#
Result
Record
Date
Opponent
Location
Time
Type
Notes
?
LOSS
 ?-2-0
1997
Saeki Takuma
Tokyo , Japan
5(8)
KO
Class A Tournament Semi-Finals
?
WIN
 ?-1-0
1997
Fukui Kyosuke
Tokyo , Japan
6(6)
Decision
Class A Tournament Round 1
?
LOSS
 ?-1-0
1995
Hoshi Hiroyuki
Osaka, Japan
?(6)
KO
West Japan Rookie King Tournament Finals
Boxing Abilities
Maezono, being left handed assumes a Southpaw stance giving him a strategical advantage over most boxers. Since he's never seen boxing (onscreen) it's impossible to determinate if his an In-Fighter or an Out-Boxer.
Trivia
Community content is available under
CC-BY-SA
unless otherwise noted.