WARNING: THIS WIKI CONTAINS SPOILERS
THIS IS YOUR ONLY WARNING. IF NOT UP TO DATE WITH THE MANGA AND DO NOT WANT TO BE SPOILED IT IS BEST TO LEAVE AND COME BACK ONCE YOU'VE READ IT!
Recurring Characters
Latest Chapter
ROUND 1277: "Sparring Tournament"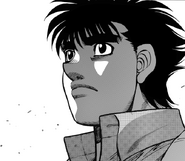 Ippo decides to take Taiehi and Kintarō, who have not done a serious spar yet, to the Date Boxing Gym where a sparring tournament is being held for newcomers that had not have a pro debut yet. Upon arrival to the Date gym, they meet coach and owner of the gym, Date, along with the coaches Okita Keigo, Kobashi Kenta, and Oda Yūsuke who each have two students. Taihei is ready to show others the strength of Ippo's number one disciple while Kintarō observes the boxers around the gym to be weak looking. Ippo, who is more worked up than his inexperienced students, instructs his students. When Taihei and Kintarō's turn came up, they were quickly defeated. Itagaki points out how the boxers they fought were boxing since primary school and their coaches all lost to Ippo, possibly holding a grudge on him and using the sparring event to show Ippo up. Fujii enters the gym and informs everyone that Sendō downed Ricardo and that Sendō and Alfredo will be fighting in three months with the winner receiving the right to challenge Ricardo. The news shocks everyone, with Ippo remembering when Sendō made the match against Ippo happen in the All Japan Rookie King Tournament despite Ippo originally withdrawing from it due to fist injuries, deeming it impossible to not get swept up in his energy. Read more...
Latest Episode
ROUND 129: "A Vow (Rising)"
Kamogawa almost loses, until Nekota gave him as much spirit he had in his fist when he came with Yuki. Kamogawa goes on the attack, but gets hit with Anderson's left numerous times and Dankichi is ready to throw in the towel to save him, and not to watch him die like that. Nekota says that if he throw in the towel, he is the one who will get killed, by Kamogawa. As the match goes, Miguel says in his mind, that Kamogawa has iron determination, just like his fists which as it appears they leave a mark on Anderson's both arms. Without speed like Nekota, Kamogawa is able to push Anderson on the ropes, from his strong punches. Hama and Nekota are saying that Kamogawa's weapon is courage. Read more...
Poll
Who is your favourite boxer from Mexico?
Community content is available under
CC-BY-SA
unless otherwise noted.