WARNING: THIS WIKI CONTAINS SPOILERS
THIS IS YOUR ONLY WARNING. IF NOT UP TO DATE WITH THE MANGA AND DO NOT WANT TO BE SPOILED IT IS BEST TO LEAVE AND COME BACK ONCE YOU'VE READ IT!
Recurring Characters
Latest Chapter
ROUND 1313: "Ricardo's Expectations"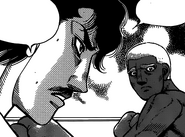 McCallum throws a left counter as Ricardo finishes his one-two. Ricardo blocks the counter with his left fist as he urges McCallum to answer his expectations. McCallum throws left Flicker Jabs at close range, which only hits Ricardo's block. McCallum detests that he has to use his right early in the match as he begins to throw it, however, McCallum stops himself and steps back as he assumes that Ricardo was waiting for him to throw it in order to land a counter. After Ricardo threw three lefts at McCallum, McCallum steps back into the ropes. Ricardo throws a barrage of lefts that hits McCallum's Philly Shell block. As Sendō yells at the television screen about not liking the match, Yanaoka suggests for him to watch the match seriously as Ricardo may be his next opponent. Read more...
Latest Episode
ROUND 129: "A Vow (Rising)"
Kamogawa almost loses, until Nekota gave him as much spirit he had in his fist when he came with Yuki. Kamogawa goes on the attack, but gets hit with Anderson's left numerous times and Dankichi is ready to throw in the towel to save him, and not to watch him die like that. Nekota says that if he throw in the towel, he is the one who will get killed, by Kamogawa. As the match goes, Miguel says in his mind, that Kamogawa has iron determination, just like his fists which as it appears they leave a mark on Anderson's both arms. Read more...
Latest News
September 22, 2020
Morikawa was featured in the 100th MANGA Day to Day series, where he drew four pages about the Coronavirus. (Source)
September 15, 2020
Atmos and Everlast is teaming up with Morikawa, releasing Hajime no Ippo themed boxing gloves, t-shirts, and hoodies on September 19, 2020. (Source)
September 14, 2020
In 2021, Discotek Media will release the first season of Hajime no Ippo anime on Bluray in three sets. It will contain episodes 1-76, Hajime no Ippo: Champion Road, and Kimura vs. Mashiba OVA. It will have Japanese with English subtitles and English and Spanish dub from Geneon with a new upscale. (Source)
August 31, 2020
Until September 13, 2020, 12 autographed art pieces from the "Hajime no Ippo: The Great Original Art Exhibition - The Bout of the Soul" event are able to be ordered.
August 30, 2020
The "Hajime no Ippo: The Great Original Art Exhibition - The Bout of the Soul" at the Ishinomori Manga Museum has ended.
Event Corner
For ongoing and upcoming real life events related to the series or the author.
Poll
Who is your favourite boxer who is or has been a JBC featherweight champion?
Community content is available under
CC-BY-SA
unless otherwise noted.