WARNING: THIS WIKI CONTAINS SPOILERS
THIS IS YOUR ONLY WARNING. IF NOT UP TO DATE WITH THE MANGA AND DO NOT WANT TO BE SPOILED IT IS BEST TO LEAVE AND COME BACK ONCE YOU'VE READ IT!
Recurring Characters
Latest Chapter
ROUND 1305: "The Courageous Tiger"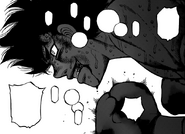 Alfredo and Sendō have an exchange, with Alfredo landing more punches while feeling that Sendō has been growing more stronger as the match goes on. Sendō, wishing to see the counter that Alfredo put Ippo down with, throws a Knuckle Drop to Smash combination. Even though Alfredo could see how open the the first attack looked, he was unable to counter and dodged instead. Alfredo blocked the Smash , however, he still felt pain through the block. Alfredo's coach becomes puzzled as to why Alfredo focused on the defensive, as the way Sendō threw his punches would make it easy to counter. Read more...
Latest Episode
ROUND 129: "A Vow (Rising)"
Kamogawa almost loses, until Nekota gave him as much spirit he had in his fist when he came with Yuki. Kamogawa goes on the attack, but gets hit with Anderson's left numerous times and Dankichi is ready to throw in the towel to save him, and not to watch him die like that. Nekota says that if he throw in the towel, he is the one who will get killed, by Kamogawa. As the match goes, Miguel says in his mind, that Kamogawa has iron determination, just like his fists which as it appears they leave a mark on Anderson's both arms. Without speed like Nekota, Kamogawa is able to push Anderson on the ropes, from his strong punches. Hama and Nekota are saying that Kamogawa's weapon is courage. Read more...
Poll
Who wins between Sendō Takeshi and Alfredo Gonzales?
Community content is available under
CC-BY-SA
unless otherwise noted.