WARNING BEFORE CONTINUING: BEWARE OF SPOILERS
VOLUMES: 46-121
EPISODES: 105-CURRENT
Ichirō Miyata (宮田一郎, Miyata Ichirō) is a recurring character in Hajime no Ippo.
He is a featherweight professional boxer, the current OPBF Featherweight Champion, Makunouchi Ippo's idol and eternal rival. Miyata is a very skilled out-boxer with a cool demeanor that specializes in counter punches. He is considered by many to be a boxing prodigy, he uses the same boxing style that his father used. After his father was forced to retire, Miyata decided to take on his style of boxing to prove its worth on the world stage. He started at Kamogawa Boxing Gym, where he eventually meet Ippo and had a pair of spars with him. The first was a Miyata victory, but he was pushed unexpectedly hard by Ippo, who had no fighting experience. He loses in their second spar and later transfers to Kawahara Boxing Gym in hopes of one day facing Ippo in an official match.
His surname is Miyata. In Japan, surnames are listed before given names.
History
Part II
After Miyata heard from a report that Makunouchi Ippo mentioned in an interview that he didn't really have a future goal or an opponent in mind since he was just going to take thing at one match at a time, Miyata wanted to confront Ippo about it. He wait for Ippo on his way home. While Ippo was distracted, Miyata mentioned it brought back memories where it was also snowing when he last confront Ippo before he left for overseas in order to fill the gap between them. Ippo was happy to see him, but Miyata was hostile toward him since he fulfilled his promise after he returned. He demanded if the OPBF title not good enough for him, or if he thought there was a gap still between them.
Ippo didn't know what Miyata was talking about, and he added if there was a gap between them, it was him that was ahead. Miyata mentioned that when Ippo was asked who he wanted to fight next, he didn't mention him. Ippo was still confused, until Miyata told him after he got the OPBF title, he sent his challenge to Kamogawa Boxing Gym many times, but he never once received a reply. He wanted to know how long Ippo planned to ignore him. When he saw Ippo shocked faced, he realised Ippo didn't know about it. As he left, he said he was the one who said they should settle i in the pro ring, but he guess he made the decision for both of them even though he thought it was a promise.
Later while he was training at his gym, he mentioned to his father that the Dempsey Roll was weak to counters. It is a simple left to right moment, and that simple motion pattern made gathering the correct timing very easy. He added by taking into account of the speed of the step in and the power involved, any full counter would backfire with twice the force. For any decent counter puncher, there was no prey more appealing. After hearing that, his father realised it was no wonder Kamogawa turned them down. He thought Ippo had an impressive weapon, and he wanted to fight him, but he had poor luck that his weapon was vulnerable to his. Miyata thought that current Ippo would fall easily if they fought, and that not what he wanted. His father pointed out that Coach Kamogawa wasn't the type to run away, where he probably planned some countermeasures. Miyata felt that Ippo was the type to bounce back too, where he believed the Dempsey Roll will change.
Miyata attended Ippo's match against Sawamura Ryūhei at Kōrakuen Hall. He ran into Sendō Takeshi on his way to his seats. Sendō believed he would be coming after he fought out that Ippo's opponent was a counter user, but Miyata didn't answer and ignored him until they ran into Date Eiji, who told them to be more friendly, but he wasn't surprise that there was tension since Sawamura was an unknown there, and very dangerous. He felt Ippo will probably struggle quite a bit in this match. Miyata thought if it was just struggling, then it was fine, Sendō agreed. Sendō asked him if he knew how to beat the Dempsey Roll, and Miyata said he did. Sendō believed Sawamura was going to put what he thought into action, and everyone's will be shocked in the hall. When Date saw how serious they were, he felt the match won't end with nothing happening.
After Miyata's next title defence opponent was announced as a prior to Takamura Mamoru's World Middleweight Title match against David Eagle, he headed toward Kamogawa Boxing Gym to pick up Takamura for a training camp to prepare for their match. When he arrived, he noticed Ippo about ready to spar with Imai. Takamura asked him why he was there, but Miyata told him that he was the one that suggested they train together. He was waiting for Takamura, but he never came so he decided to pick him up, since his father was waiting in the car. Takamura mentioned since he was there, he could watch the spar even though it might be a little boring. Miyata wasn't opposed to it. Miyata saw Ippo struggle in his spar with Imai Kyōsuke, where Imai ended up pushing him.
As he headed to his car, Itagaki Manabu asked his opinion on the spar. Miyata didn't think much of it, since Ippo was done in by a simple copy, and nothing more. Itagaki thought Ippo was usually better than that, but he hadn't fully recovered from his match against Sawamura. He believed if Ippo was in better condition, it would have been easier for him. Miyata asked if he came to defend Ippo, or refused to admit the strength of his rival. He heard from Takamura that Itagaki been chasing him since high school. Itagaki tried to disagree, but Miyata told him he should be happy, since the stronger the opponent was more fun. He added that he should be excited as Takamura yelled at him for being late.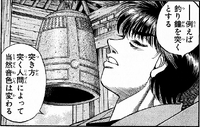 In the car ride, his father was complaining that they were late, when Miyata mentioned they were watching Ippo spar against a strong newcomer. His father was surprised Ippo was beat by a rookie, when Takamura mentioned Ippo not good, where his only talent was luck. He told Miyata to forget about him, and hurry to the world. Miyata Senior thought Ippo's strength was as unpredictable as ever, but Miyata thought it was a reflection on how he was it. He said Ippo was like a giant bell, where people with different techniques will get a different timbre of sound out of the bell. His dad believed no matter who Ippo fought, it was a good fight, and ever match was a close fight which was why he is hard to read. Miyata told him that when Ippo faces a strong opponent, his proficiency rises against a difficult to handle boxer. Takamura wondered of that meant Imai was too weak to get a response from him, but Miyata thought their levels were about right. He felt it must of been hard on Itagaki seeing Imai win, but that kind of thing makes boxers like him stronger. Takamura realised that he hit Ippo in the past, and Ippo didn't do anything. Miyata mentioned the bell break if they are hit too hard. Takamura was happy after he heard that.
During the training camp, Miyata had a hard time trying to keep up with Takamura, and his never ending stamina. When they stopped, Takamura thought he kept up pretty good for a weakling. Miyata wondered if other Kamogawa gym members had to deal with this level of training all the time. Takamura joked they needed a break or they will die, but now he could go full throttle. Takamura started to run again, but Miyata wanted a break until Takamura mentioned Ippo always managed to keep up with him. The next day, Miyata's body was sore when he noticed Takamura carrying fishing gear and started fishing on a pier. Miyata was surprised by it, but Takamura told him that he was using this camp for secret training in order to beat someone back home. When Miyata saw Takamura having trouble catching fish, he decided to try his luck at it. Miyata tried fishing like it was a counter, but he also had trouble at it. Takamura joked that he can't do anything if it was not boxing. Miyata fished some more, but had no luck at it while Takamura continued to make fun of him. Fed up, Miyata landed a punch on Takamura while he was laughing. Takamura yelled at him, when Miyata thought he would dodge it.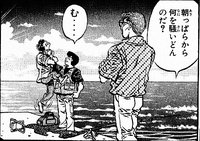 When his father arrived, he thought it was a little early for them to be playing. Miyata Senior asked how long Takamura's been fishing when he saw the fishing rod. Takamura told him there was a man that laughed at him, and he can't be forgiven. After he heard that, Miyata Senior wondered if he was talking about Yagi, he told Takamura he shouldn't duel with him, but Takamura didn't want him to get away with it. His dad mentioned about Yagi's past, where he tried to cheer him up and they went fishing. However, a demon appeared on his face, and he heard from Shinoda that there was a place that banned Yagi from fishing since he depleted the local population. He felt if Yagi chose the path of a fisherman, he would be a legend. Takamura wanted to take him on, but his dad mentioned he challenged him many times but lost every time. Miyata thought nothing ever changes with Takamura after he heard them talking. He was surprised that he was able to hit him, and thought Takamura never been that defenceless before. Miyata worried there might be something more into it, but hoped he was just over thinking it.
Miyata and Takamura continued to run, but Miyata still had a hard time keeping up with him. Miyata was surprised at how much Takamura ran during weight management. Takamura realised that was they reason why Miyata's counter were weak, he told Miyata that after they get back they will spar which shocked Miyata after he heard him. In the ring, his father told him to make the spar a learning experience while Takamura asked him if he needed headgear, but Miyata didn't think so since he didn't think a middleweight will be able to keep up with a featherweight speed.
As the spar started, Miyata used his speed and thrown a bunch of rapid jabs, but Takamura was able to block them and follow him despite not moving much. Takamura was able to trap Miyata in a corner. Miyata dodged Takamura's left that drilled the corner post. Miyata planned to land a counter on Takamura and get away as he threw a punch. When Miyata tried his counter, Takamura bumped it away with his shoulder, and said it was weak as he drilled him with a body blow knocking him out. Later his father dumped some water on him that woke him up, and asked how he felt. Miyata realised Takamura went easy on him not to kill him, and he was surprised Takamura beat him in speed. His father told him he didn't lose in leg speed since he steps were shorter and faster, but Takamura mastered cornering people with in the 6 meter wide ring. He moved the shortest distance possible from one point to the other where it seemed far faster than he actually was. He thought it was a great technique and wonderful learning experince.
Miyata met Takamura later as he was still fishing. He asked him if he caught anything yet, and Takamura mentioned a frog. When Takamura noticed the bandage on Miyata, he didn't think he hit him that bad and apologise for picking on lesser man. Miyata remembered the spar, and he never managed to hit Takamura from any angle, where he believed he was over thinking things. He apologised for hitting Takamura, but Takamura didn't mind since he thought it felt like a mosquito bite. Miyata was depressed when he heard Takamura making light of his punch. He asked Takamura if his counter was really weak. Takamura agreed and told him that anyone at the World level could do what he did, and not because of his weight class.

Takamura then shows Miyata how to put his full body weight in his punches by having him put his left hand closer to his body. Takamura tells him by pulling his left hand away from his body, it makes it easier to throw punches, but it lowers his effective power. Where as, bring it closer to the bod will pull out the power from his back. Takamura also mentions another issue is his lower body stance, where he has a lack of stamina. When Miyata leaves, he starts wondering if there is something wrong with Takamura's eye, since he has a bad feeling about it. He calls Ippo about it, but he isn't able to confirm anything.
When David Eagle arrives in Japan, he is based out of Kawahara Boxing Gym, where holds sparring practice and signs autographs for the local children (including Ippo and Miyata.)
During Miyata's match against Medgoen Dachboy, Miyata runs into Mr. Sakaguchi again. Miyata was able to beat him, but according to Mr Sakaguchi he was able to find Miyata's weakness during the match. After winning the match, the crowd discusses Miyata's future of challenging the World, but change to talks about a potential Ippo vs Miyata match up instead.
Prior to Takamura's match with Eagle, Miyata asks Ippo about what he learned about Takamura's eye.
Miyata attended Itagaki Manabu and Imai Kyōsuke match in the East Japan Rookie King Tournament Final . He ran into Takamura Mamoru in the crowd, where Takamura was surprised that he came. Miyata mentioned that he was interested in them since they were in the same weight class, but Takamura thought there was more to it. Miyata noted that Itagaki and Imai do resemble Ippo and him in the the past, but he not interested in the match because of it. Takamura wanted his prediction, but Miyata thought it could be interesting since Itagaki's bring a lot of emotion into the match. Takamura wanted to know what he would have done against Ippo in the past, by using his feet or infighting. Miyata didn't know what he would have done then, but if he fought Ippo now, he knows the correct answer. However, since he not fighting he want to see what Itagaki's choices and decision are. As the match started, Itagaki used his legs, and Miyata thought he not wrong since trusting in one's own weapon was the correct answer.
Miyata saw Itagaki attack just like a text book, and Imai had a powerful body blow. He thought infighters are persistent, where even if they miss one, they will try over and over again. He saw Imai guard so he can ignore Itagaki's left, and he closes the distance little by little. He believed Itagaki must be feeling intense pressure since there are many cases of high speed outboxers losing to infighters because they crumble under that mental pressure. Takamura pointed out that he said using one feet was the correct answer. Miyata agreed but he added in boxing all comes down to a fist, and a person can't win just by running away. After Itagaki realised that, he started infighting Imai close range by dodging Imai's attacks with very little room. After seeing that, Takamura asked him if that was the correct answer. Miyata thought using one feet was correct, but the real answer was to mix outboxing with some close range combat, which was what he would do. He felt fighting head on against a powerful fighter was far from being correct, and sheer recklessness. As the match continued and Itagaki continued to use his feet an infight, Miyata was astonished by it since it wasn't something that can't be taught, moving at high speed in a close range match. He never thought he would see such a feat at the Rookie King Level. As the match went on, Imai finally managed to land a hit on Itagaki, but Itagaki continued to infight and show his determination in the next few round by winning the points.
As the match went on, Itagaki continued to take more damage, but he was able to withstand it and fight back. Miyata wondered if Itagaki had a lot of stamina, when Takamura believed he did since he does the same training as everyone else at the gym, and he didn't think the number of punches Itagaki decreased. Miyata mentioned the number had increased, but Itagaki's feet stopped moving as he continued to slug it out with Imai. As Itagaki fought, Miyata knew that ten punches are reduced to nothing with one punch, where there nothing more frustrating and irrational than that, but that was they way boxing is. He knew what Itagaki was facing since he experienced it too as Itagaki came close to getting KO, but he was able to with stand it till the end of the 4th. Takamura thought the next 6 mins in the ring will seem like hell to Itagaki. Miyata believed Itagaki must be humiliated by now since his fist can't knock out Imai no matter how many punches he thrown. He felt Itagaki must be angry inside, which helped fueled his punches and brought him this far since he was near his limit. He thought Itagaki won't be throwing any a barrage of punches, and gradually he will realise he can't win as he submits to Imai's blows where his heart will break and the match will end.
In the 5th round, Itagaki shown his determination and spirit as he was able to withstand Imai's punches and hold out till the end of the round proving Miyata's prediction wrong. Instead of being heartbroken, Itagaki counter attacked. In the last round, Imai was able to down Itagaki, but Itagaki got up and continue to survive. Takamura asked him whose heart was about to break now after seeing Itagaki continued to fight back. He added that Itagaki might not be perfect, but he does the same amount of training that he had, and they never shown him to give up and throw it all away. He pointed out the the bloodline of Kamogwa was not to be underestimated as long as he was conscious, he will keep on fighting. Miyata told him next time he fights someone from Kamogawa gym, he will keep that in mind. Itagaki was able to last to the end of the round, and the match was sent to the judges decision, where Itagaki was declared the winner.
As Kimura and Aoki celebrated Itagaki win, Miyata wondered if overdoing was also apart of Kamogawa blood. When Itagaki passed out, Takamura was going to head to the locker room to check him out. As he was about to leave, he asked Miyata on his impression from the old and current him if he fought Ippo in the Rookie King and what he thought now. Miyata felt he couldn't speak of his past self since he was only the current him, but he felt if they fought it changed nothing as he clenched his fist. He added the only way to tell was actually do it. The next day, Kamogawa called Kawahara Boxing Gym and spoke with his father about a match with Ippo. Miyata overhear that Miyata Senior told Kamogawa that he had a title defence scheduled for two months from now in January. If he can clear it, he schedule was free, where they decided on a match for spring between Ippo and Miyata. After his dad hanged up the phone, Miyata thanked him.
While Miyata was training for his match, Kida mentioned that Ippo had a match two days before Miyata's for the annual Champion Carnival match against the number one ranker even though his OPBF title match was decided. Kida thought Ippo's camp had some real guts, and thought it won't be a problem for Miyata. Miayta Senior expected Kamogawa to have a lot of guts. Miyata thought if it all went well, Ippo would be calmly watching his match just like last time where his match was starting to feel more and more like destiny. He felt things don't have to go the way they did last, where he can't break their promise twice in a row. He was determined to meet Ippo in the ring without fail.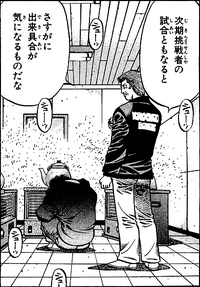 As Miyata was trying to lose weight, his father told him that Ippo's match against Take Keīchi was about to begin. It a match that will decide his next challenger, where he was sort of interested in the results. When Miyata didn't respond, his father realised Miyata was not in a position to worry about other people. Miyata thought Ippo's not thinking about him, and he got his hands full in order to focus on his fight himself. Later, he learned Ippo won his match.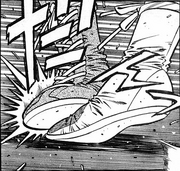 Now that Miyata's match with Ippo was set, he needed to defend his OPBF title for the 5th time against Che Jounbong. For the first few rounds, the match was one side in Miyata's favor, where Che got KD quite a few times but he continued to stand and fight. During the 3rd Round, Miyata noticed a familiar face in the crowd, Mr. Sakaguchi. He also saw a person sitting next to Mr. Sakaguchi him that looked familiar to him, but can't place him. Miyata started thinking about who that person might be, where he became distracted in his match allowing Che to land some punches on him. As Miyata tried to get away from Che, Che stepped on Miyata's foot (similar to what Mashiba did to him in the Rookie King Tournament preventing him from getting away. Che continued to land punches on Miyata. While Miyata was getting hit, he was still trying to remember who the person next to Mr. Sakaguchi was.
Che Jounbong headbutted Miyata while he was distracted, and elbowed him too. Miyata wasn't able to use his legs to get away. Miyata got trapped in the corner unable to move, as Che was going in for the kill, Miyata tried to land a counter on him but he doesn't because he was distracted. Instead of taking a down from it, Miyata continued to stands. Right as Che went in for the kill again, the Ref stopped the match in order for a doctor to check out Miyata's cut (from the headbutt) that was bleeding. The doctor wanted to stop the fight to be on the safe side, but Miyata didn't want him to because he really wanted to fight Ippo.
Miyata turned around and he was ready to continue to fight against Che over the doctor and ref's objection, while the crowd cheered him on. The ref continued the match. Miyata's was shaky on his legs and still distracted. Che continued to land punches on him. Che went in for the kill, while Miyata was getting angry and started to trade hits with Che instead. Miyata decided to slug it out with Che. Miyata ended up landing a cross counter on Che, but Che was able stand like it was nothing. Miyata continued to slug it out, where he was landing more and more punches on Che. Che ended up taking a down from it. The ref needed to steps in between Che and Miyata to stop the fight since Miyata was continuing to throw punches while Che was down. The ref declared Miyata the winner in the 4th Round. Miyata realised this match was his worst match, and he decided not to stick around for the interview afterwords.
In the locker room, Miyata's father mentioned that the fight with Ippo needed to be called off because Miyata broke his fists during the fight. He wanted to rescheduled the fight once Miyata was healed.As M iyata left the waiting room, and met Randy Boy Junior out in the hall. Randy Boy Junior told Miyata, "We were destined to meet..." Miyata asked (in English) who Randy Boy Jr was, but he didn't answer. Instead he thrown a punch toward Miyata but missed, and told him that "Did I not say this was a fated meeting? And no one can fight against fate. You and I were meant to fight!" Miyata Senior came out and wondered what was going on, and Randy Boy Junior started to leave, and mentioned, "A father-son team, is it..? So it is fated after all. Do not forget, Ichiro Miyata, you cannot escape from your destiny." Miyata still didn't know who he was, but he realized he is not the typical cannon fodder.
As Miyata was wrapping his fist, his father wanted to know what he was doing. Miyata told him that he was not feeling any more pain with them, where he thought about hitting the sandbag, since doing nothing but shadow boxing and roadwork doesn't do much to help pass time. His father told him no, otherwise he could break his fists again and the match might be delayed another time. He added that injuries like that tended to stick around, and he knew how Miyata felt, but he shouldn't rush things. He told Miyata that they were holding a match for an interim champion since his recovery will take a while. The interim champion will take the champion's place while he was incapacitated. There was a match between the highest rankers to decide who got the position. Miyata was surprised since Ippo was still ranked first, but his father told him he was not in the running since he was only focusing on his match with him. He mentioned the match will be 2nd ranked Filipino and 3rd ranked Thai, where who won intended to be Miyata's return opponent since the active champion was suppose to fight the interim champion when ever he was able bodied.
Miyata thought it was not going to happen, since he didn't care and there was no point in fighting them. He felt if they stripped him of his belt because he ignored their decision, he was okay with it. Even if his match with Ippo wasn't for a title, as long as he can fight him he didn't care about it. Right now, Ippo was all he can think about. His dad decided to prioritize his feeling then as he left. Miyata didn't really care about, but he decided to check out who was going to have the title while he was out. When he check the magazine for there name, he saw Randy Boy Junior was ranked 2nd. He couldn't tell much looking at their ranking, but he thought he heard his name before. As Miyata was shadow boxing, he thought about his fated match with Ippo, and fulfilling his promise with him once his hands are healed for their fated meeting. After he mentioned fated meeting, he realised he heard that before too but can't remember where.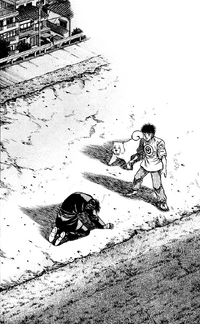 After Miyata learned that Randy Boy Junior became the new interim champion, he decided to put priority on maintaining the OPBF title after Randy Boy Junior contacted them while Miyata was recovering. Randy Boy Junior mentioned it was the champion's duty to fight the interim champion when upon his recovery. His father and manager tried to get him to change his mind, but Miyata refused to listen to anything they said to him. Miyata didn't explain his reason for it. Miyata met Ippo on his way home. Ippo wondered why Miyata was there, but Miyata wouldn't answer. Ippo thought Miyata came to see him, but Miyata was still silent. Ippo asked him if his hands healed yet, and if he would be ready in time for their match, but Miyata still didn't answer him. Ippo told him it was fine, since he will be waiting for him. He will wait for as long as it took, which surprised Miyata. Ippo added he should let his fist heal without rushing it, and they will fight in the best condition possible. After Miyata heard that, he dogza on the ground, and apologised to Ippo. Ippo tried to get him to stand, he asked why he was doing it, and wondered if something happened. Ippo felt if his fists are healing up well, they could delay the match, but Miyata told him that he doesn't have to wait for him anymore. The match with him wasn't going to happen. Ippo didn't know what Miyata was talking about, but he thought they made a promise that they would meet in the pro ring and have match. It was the reason why he had been trying hard to fulfill that promise. As Miyata was leaving, he told him it just wasn't fated.
In order to prepare for his upcoming match against the Interim Champion, Miyata needed a tune up match to get rid of any potential rust he might have from the long break. They picked the Filipino Rank #2 in Donnie Sultan.
During the match, Miyata tries out his new counter that Takamura helped him with during their training camp. Donnie throws a huge swing, thinking he finally caught Miyata, and goes in for the kill. Except Miyata suddenly disappears and reappears right next him and throws a punch at Donnie's tip of the jaw. After Miyata throws it, he starts walking back to his corner while Donnie falls (like a puppet with his string's cut.) Miyata wins the match.
Kida and his coach ask Miyata why he used the new counter this match, when the Interim Champion will probably be studying it now. Miyata tells them they don't need to worry since the next match, his counters will be useless on him. Miyata Senior doesn't know who Randy Boy Junior is, but Miyata does and would gladly accept destiny match between them.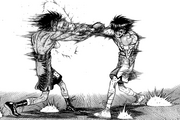 He was supposed to fight Ippo as promised at that point, but due to a series of events that would come to be called fate, the match didn't happen. Miyata broke his fists in the fight preceding his match with Ippo and took three months off to recover. During that interval, Randy Boy Junior became the Interim Champion. Miyata then cancelled his match with Ippo, much to everyone's confusion.
The reason was Randy: Randy's father, Racoon Boy, was the man who ended Miyata's father's boxing career, and somehow, like Miyata, Randy had inherited his father's boxing style. Miyata saw the fight as an opportunity to avenge his father and prove once and for all that his father's boxing was superior.
The match pushed Miyata to his limits, taking him into the 7th round -- the longest he had ever gone in the ring -- with seemingly no chance of winning. However, thanks to his father's clever coaching in uppercuts, Miyata managed to defeat the switch hitter with a comeback KO.
The actual KO punch was not a move Miyata had learned or practised. Randy calls it "Red Lightning", and his father says it heralds the emergence of Miyata's own unique style.
Miyata spars with Kojima Hisato prior to his match with Ippo.
After Miyata witnessing Ippo relinquishing his national belt, he awaits how things will turn out in the OPBF rankings. In this case the upcoming match which Miyata has shown interest in, Itagaki against Saeki, who might end up in the future reaching him. As the result came in that Itagaki is the winner and that he's in the OPBF ranks now, Miyata smiled, congratulating Itagaki.
According to Miyata as he responds to his gymmate that said Itagaki is currently the fastest in Japan, "being the fastest in Japan is one thing, but being the fastest in the world is entirely different".
Miyata watches Ippo's match against Alfredo.
Miyata defends his OPBF title for a 7th time against Luisito Ico. Miyata started the 1st Round on Offense with his sharp left and right combinations that chipped away at Luisito's guard. When Luisito started to throw a left hook, Miyata landed a counter on him sending him to the canvas. The match ended after the ref stopped the ten count. Miyata won in the first round with a TKO. After the match, Miyata was intervied by Ana. She asked him about his thoughts on the opponent
The match ends when Miyata's counter lands. He loses against the Champion in the 1st round via TKO. After the match, Miyata is interviewed, and asked what he thinks about his opponent, and Miyata mentions "Not Much." When asked about his future plans after 7th OPBF title defense, he doesn't have any goal.
Sendo confronts Miyata after the match, where he needs to forget about Ippo, and change weight classes, or challenge Martinez.
For a Final Tuning before Nagumo Ryuji's World Title match, he went to Kawahara Boxing Gym to spar with Miyata. Miyata didn't want to wear any headgear for the spar, and Nagumo was the same. Nagumo's coached started to object because he had a World Title match, but Negumo felt they could stop it if it got too risky. Miyata Senior added to Miyata that Nagumo was not wearing headgear since Miyata provoked him. He told Miyata that Nagumo's speed was a real threat. The spar started and Miyata tried to land a counter but Nagumo slipped away and killed the impact. Nagumo used his speed, and was able to counter Miyata. Nagumi thrown a left again and Miyata looked to counter it, Miyata Senior stopped the spar.
The reporters commented that Nagumo was able to push Miyata the whole time, and they believed Nagumo can take on the World. They asked Miyata for his impressions. Miyata said "He's strong. I'll admit that." Nagumo wanted to spar a little longer. His coach was happy and believed if they can maintain the momentum then, Nagumo will win the World title in 3 weeks. Miyata added that Nagumo's speed is a real threat, and his rhythm was hard to read. He doesn't felt the World Champion will enjoy that fight.
Miyata received a ticket to Nagumo's World Title match as a thank you for the spar. When he goes, he meets up with Ippo, who also received a ticket. When the match is about to spar, Miyata and Ippo are singled out and put on TV to help hype Nagumo's accomplishments.
Ippo mentions that he read in a magazine that Nagumo beat him in a spar too, and thinks they are alike. Miyata asks Ippo what happened in his spar. He wonders if Ippo seriously go down to "that", since it been bother him.
Ippo wonders if Miyata held back during their spar. Miyata once again asks if Ippo really lost to Nagumo. Ippo mention he really did knock him down, where he couldn't keep up with his speed, and landed two solid lefts on him. Miyata mentions that it was clear as soon as they matched up that Nagumo might be unpredictable, but he's clearly not World Class. He had to stop himself from getting too into it. If he had fought seriously, he would have probably injured him and ruined his World title shots. So he held back instead. Miyata just couldn't believe Ippo could go down to "that". Ippo thinks that Nagumo has a chance, but Miyata tells Ippo didn't he learn from his last match that the World Stage isn't easy.
Miyata attended Ippo's match against Antonio Guevara. He watched the match with Mashiba Ryō, Sendō Takeshi, and Fujii Minoru.