Randy Boy Junior (ランディー・ボーイ・ジュニア, lit. randī bōi junia) is a semi-recurring character in Hajime no Ippo.
He is a Featherweight Professional Boxer and the son of Raccoon Boy, the man who defeated Miyata's father and ended both their careers prematurely. Like Miyata Ichirō, he has the exact same style as his father and as such their match was considered fate.
He was the main antagonist for Miyata Ichirō in the Survival Match of Asian Champions Saga.
Randy is currently the strongest Filipino character so far in the series.
Background
Randy Boy Junior is a Featherweight professional boxer and the son of Raccoon Boy, the man who defeated Miyata's father and ended both their careers prematurely. Like Miyata Ichirō, he has the exact same style as his father.
He holds a victory over the former Filipino Featherweight Champion and fellow countryman, Malcolm Gedo, who shattered his dreams of reaching the world stage from being defeated.
Part II
OPBF Interim Champion Match
During the 3rd Round, Miyata notices a familiar face in the crowd, Mr. Sakaguchi. He also notices a person (Randy Boy Junior) sitting next to Mr. Sakaguchi that looks familiar to him, but can't place him. Miyata starts thinking about who that person might be, and he becomes distracted in his match allowing Che to land some punches on him.
As Miyata tries to get away from Che, Che steps on Miyata's foot (similar to what Mashiba Ryō did to him in the Rookie King Tournament in Round 70) preventing him from getting away. Che continues to land punches on Miyata. While Miyata is getting hit, he is still trying to remember who the person next to Mr. Sakaguchi is.
Miyata ends up winning the match, but he breaking both of fists in the process. In the Locker Room, Miyata Senior mentions they need to delay his upcoming match with Ippo in April in order for Miyata to heal. Miyata leaves the waiting room, and meets Randy Boy Junior out in the hall. Randy Boy Junior tells Miyata, "We were destined to meet..."
Miyata asks (in English) who Randy Boy Jr is, but he doesn't answer. Instead he throws a punch toward Miyata but misses, and tells him that "Did I not say this was a fated meeting? And no one can fight against fate. You and I were meant to fight!" Miyata Senior comes out and wonders what is going on, and Randy Boy Junior starts to leave mention "A father-son team, is it..? So it is fated after all. Do not forget, Ichiro Miyata, you cannot escape from your destiny." Miyata doesn't know who he is, but you realized he is not the typical cannon fodder.
RBJ meets Mr Sakaguchi outside and mentions Miyata turned him down, but Mr Sakaguchi mentions not to worry, he will get that match for him. RBJ mentions if Miyata's fists weren't broken, he wonders what would have happened. After hearing that, Mr. Sakaguchi knew how to arrange their match now.
In Round 708, Yagi Haruhiko mentioned due to Miyata's fists breaking, he heard that the OPBF was getting ready to select an interim Champion. Shinoda Tomoyuki mentions that an Interim Champion means the actual champion (Miyata) would have to fight him after he's healed. He ask aren't Miyata and Ippo going to fight each other next? Yagi mentions, "The situation has changed quite a bit now. Depending on what happens with Itagaki Manabu (match with Hoshi Hiroyuki), Ippo might have to accept a challenge, and he wouldn't be able to relinquish the belt until he settled that..."
In Round 709, Miyata Senior mentions that the OPBF is holding a match for an interim champion since Miyata's recovery will take awhile. The interim champion takes the champion's place while he is incapacitated. There is a match between the highest Rankers to decided who gets the position. Miyata mentions Ippo being ranked first in the OPBF, but Miyata Senior tells him that he's not in the running since he's only focusing on his match against Miyata. So the Interim Champion match, is going to be the 2nd Ranked Filipino and a Thai whose ranked 3rd. Who ever wins, intends on being his return opponent since the active champion is suppose to fight the interim champion whenever he is fully healed.
Miyata tells him that it is not going to happen, he doesn't care and there's no point in fighting them. "If they strip me of the belt because I ignored their decision, then that's fine with him. Even if it isn't for the title, as long as I can fight him (Ippo), I don't care. Right now, he's all that I can think about." When Miyata looks at the current OPBF rankings to see who will be fighting it out for the Interim OPBF belt, he notices "Randy Boy Jr" on it for being #2 in the OPBF. After thinking it over, Miyata realizes "fated match" starts to sound familiar but doesn't know from where.
In Round 710, when Kamogawa see Ippo is only focused or singled tracked on Miyata, if he fought someone else now, it would only end up being a half-hearted effort. Yagi thinks it is a good thing they turned down an invitation for the OPBF interim title, even though having Ippo fight Miyata as the interim champion would be exciting in its own way.
Kamogawa feels that Ippo would have his head in the clouds and lose the match for the interim title instead. Yagi agrees since the #2 OPBF ranker has a strong reputation. After see his name, Kamogawa feel like he has heard the name before, but doesn't know where, and after seeing his face too. Yagi thinks so too.
In Round 721, Miyata calls off the match between Ippo and him. In Round 722, Miyta Senior mentions the new Interim Champion (Randy Boy Junior) contacted them while Miyata was still recovering, and mentioned because it's the Champion's duty to fight the interim champion upon his recovery. With the fight now called off, Ippo's got to face other other Asian Champions.
Note - At this point in the story, it still hasn't mentioned who the new OPBF Interim Champion is.
New OPBF Interim Champion's Past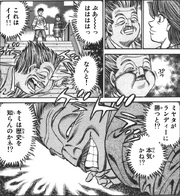 After the match, Ippo runs into Mr. Sakaguchi. He want try sign Ippo to a contract, but Ippo turns it down. Mr Sakaguchi ask Ippo if he want a World title, the one condition is that you beat his boxer, Randy Boy Junior - the New OPBF Interim Champion. Both of them are aiming for a World title match, Ippo and him will clash and he would like to Promote it. Ippo has nothing to discuss with him since he doesn't think Miyata will lose.
Mr. Sakaguchi laughs, and comments that Ippo doesn't know their history. He tells Ippo to look up and see, Miyata has no chance of winning. Mr. Sakaguchi saw, and it only made him more confident. Counters will be useless. History has already proven it.
In Round 751, Ippo visits Fuji to watch the video of the OPBF interim match with Randy Boy Junior. Miyata Senior is also there. Watching the tape, Ippo realizes what Mr. Sakaguchi meant when he said counters won't work on Randy Boy Jr when he see him in a Southpaw stance. According to Ippo, normally you send a right across your opponent's left for a Right cross. However against a southpaw, the range and angle are different. It's completely different than usual, where he meant that counters won't connect. Ippo notes that Miyata hasn't fought any southpaws before.
Miyata Senior disagrees with Ippo's comment. He mentions that it's not like there is nothing they could do, where Miyata can overcome his lack of experience through practice, and modern boxing has plenty of methods to deal with southpaws as well. He mentions the opponent is usuing one of those methods now. Against a southpaw, use your right since southpaws have a tendency to for their left guard to be very weak. Throwing High-low combination to disrupt it is a pure textbook approach to it.
Miyata Senior mentions that the opponent been aiming for it a while now. Randy's lead hand is being completely parried, and he's being held back and iritated. He asks Ippo what he would do when your lead fist can't connect at all. Ippo mentions when the jabs aren't connecting you start to want to throw a left straight. Miyata Senior mentions you target that with your right, this is an anti-southpaw right cross. Randy dodges it and KO'ed the opponent instead.
Ippo wonders why the counter didn't land, and why the opponent is down. After re-watching it, Ippo notices Randy Boy Junior is not in a southpaw stance, where he switched over to an orthodox stance. Naturally the anti-southpaw counter's timing will be thrown off which leads to opponent going down. Ippo wants to watch the tape again, but Miyata Senior wants to stop it, and finally realizes who Randy Boy Junior is.Miyata Senior, "Seeing the finishing blow made me realize it, no I suppose I should say it made him remember it..."
Raccoon Boy vs Miyata Senior
Fuji mentions he can understand how Miyata Senior might have missed it before since his name is different. The man Miyata Senior fought in his prime was called Raccoon Boy. Miyata Senior, mentions that Randy Boy Junior is the son of the boxer who ended his career, and that finish blow is the same exact one that destroyed his jaw. Led on to believe he's a southpaw, you match the distance and timing to throw a counter only to get shot down. After losing, Miyata Senior told himself it was just a lucky punch, but it was clearly something he was aiming for. Realizing the extraordinary depth at the World stage, he chose to retire.
Later on, according to Yagi, "They Called him Racoon because he's good with both hands." Ippo mention he is a switch hitter. Yagi mentions they had no information about it at the the time, but even if they had known, they would have still believed that Miyata Senior could have won it.
Yagi remembers "It was his 7th OPBF Title Defense that day, and the entire hall was excited about a man who could take on the World." Yagi thinks Ichiro has yet to outdo his father in counters yet. "Miyata Senior's counter were as sharp as usual on that day, where he had a point lead entering the last round, and just as we thought he had won...that tragedy occurred. The Hall went Silent, as if it had been frozen, and the only thing you could hear was Ichiro crying voice."
At the time, Yagi thought it was a lucky punch that won it for him, but afterwards Kamogawa explained to him that right when he was going for the counter, Racoon Boy actually switched from the southpaw style to orthodox stance. He was clearly aiming for it.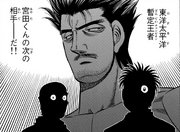 After Ippo defeated Gedo, Gedo mention that not all of his losses are fake losses. Gedo mentions that he fought someone that he fought someone that shattered his dreams of reaching the WOrld stage. That person was Randy Boy Junior.
After defeating all the boxers at Otowa Boxing Gym, Randy Boy Junior is having a hard time finding training partners. Mr. Sakaguchi mentions that they should have gone to Mexico instead of training in Japan. When Mari asks why he didn't, Otowa Coach mentions it was because he was too cheap. Mr Sakaguchi ask if there is any other gyms they could call, that had a fast fighter (to prepare for Miyata, and to show off.) Otowa Coach doesn't think so when they hear about Randy Boy Junior destroying boxers. In order to find someone to eat his words, they begin to think of potential opponents for him. Mari thought of Itagaki. After hearing about it, Itagaki wants to fight, but Yagi and Shinoda don't know if it will be a good idea since the Coach Kamogawa is gone, and Randy Boy Junior has destroyed a few boxers already. Itagaki mentions since he isn't able to spar with Ippo, he wants to find someone strong. Itagaki, Shinoda, Yagi, and Ippo head over there to spar.
Randy Boy Junior vs Miyata Ichiro Match
Randy is aiming to defeat Ricardo Martinez to become World Champion. It is revealed before his fight with Ichiro Miyata that his father died after his world title bout. He suspects it was because he sustained brain damage after the fight with Miyata's father.
Randy was beaten by Miyata after what was undoubtedly Miyata's most intense fight up until that point. This angered his manager, Mr. Sakaguchi, into nullifying their contract. Without even paying attention to his manager, Randy accepted the outcome of his fate against Miyata and then decided together with his team to go home back to the Philippines.
Match History
Match History
#
Result
Record
Date
Opponent
Location
Time
Type
Notes
25
LOSS
24-1-0
1997-04-15
Miyata Ichirō[1]
Yokohama, Japan
7(12) 2:05
KO
OPBF Title Featherweight Unification Match
24
WIN
24-0-0
1996-06-??
Banai Jakkuim[2]
Metro Manila, Philippines
??
KO
Interim OPBF Title Featherweight Match
?
WIN
 ?-0-0
199?-0?-??
Malcolm Gedo[3]
Metro Manila, Philippines
??
KO
Spars
Appearance
Randy is a tall man with tan colored skin. He is well built with a strong and muscular body. He has intimidating sharp eyes and thick eyebrows. He also has a short neatly trimmed mustache on his upper lips and spiky black long hair.
Personality
Randy is an arrogant boxer who considers himself much better than his opponents. He is also shown to be quite level-headed, not holding a grudge over Miyata's father killing his own. But when he is losing in a fight, he can become extremely furious in contrast to his normal demeanor. He becomes even more dangerous, with his normal aloof face changing into one of pure rage. 
Fighting Style and Techniques
Randy Boy Jr. is a strong and ambidextrous boxer, just like his father, which enables him to be a "Switch Hitter": a boxer who is capable of freely switching stance from orthodox to southpaw and vice versa. His style has given him the ring name "Asura" because of his ability to "go" and "see" anywhere in the ring. His switching is said to be the perfect match-up against counter-punchers, and out-boxers in general, because it disrupts their rhythm and timing. This was shown in his past fights and his spar with Itagaki Manabu (who had already awakened his latent potential). He has power and endurance supposedly on par with Makunouchi Ippo, and is also surprisingly fast. Randy is also good at using head slips and parrying punches.
His usual pattern is to allow his opponent to get into rhythm (though this means he may have to take some hits) then disrupt it by switching stances. Using this, he eventually catches them. If he traps his opponents in the corner, he will face them directly with his hands up on both sides of his face. From there he switches between orthodox and southpaw depending on where his opponents move.
Techniques
Weaknesses
Randy tends to take a lot of hits despite his speed and endurance. His signature strategy may not be as effective against in-fighters like Sendo or Ippo, since the punishment he would have to take from them may be too severe to allow him to mount a counterattack. Moreover, switching stances has little effect on in-fighters.
Randy is ambidextrous, but when he becomes off-balance he instinctively throws his left. Miyata exploited this habit to land his first major counter of the match.
Gallery
Trivia
Randy shares similarities with a real-life Filipino professional boxer, the five-division world champion Nonito Donaire, who is a switch-hitter known as "The Filipino Flash". Donaire was regarded by the BWAA as the fighter of the year for 2012. Donaire is known for his power, speed and aggressive fighting style, as well as great technical skills and a good counter punching skills. They're also physically similar, although Donaire has a lighter skin tone and a less serious look on his face. Donaire is also known to be a fan of Hajime No Ippo, and has personally met the author of Hajime No Ippo
The face of Randy Boy Junior is same as the late action star Rudy Fernandez.
References