Randy Boy (ランディー・ボーイ) or Randy Boy Senior is a non-recurring character in Hajime no Ippo.
He was a Featherweight boxer from the Philippines that fought against Miyata Senior in his 7th OPBF Title Match, and won it with a "Lucky Punch", ending Miyata Senior's boxing career and dream at a World Title. He was the father of Randy Boy Junior.
Background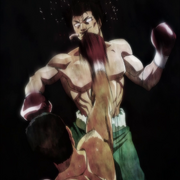 He was nicknamed "Raccoon" Boy, because he's good with both hands, or ambidextrous., which allowed him to fight as an Orthodox and Southpaw, or Switch Hitter. He is the father of Randy Boy Junior.
During Raccoon Boy's OPBF Featherweight Title match against Miyata Senior, he was losing in point in the last round. When Miyata Senior thought he was going to win it with a counter to finish Raccoon off, Raccoon switched his stance for the first causing the counter to miss, leaving Miyata Senior open to be countered instead. Randy Boy Senior was declared the winner.
At the time it was believed, that Randy Boy won with a "Lucky Punch", but it was later shown that it was actually planned, since Miyata Senior didn't know Raccoon Boy was a Switch Hitter. Randy Boy received a lot of injuries in the fight, which contributed him showing signs of being Punch Drunk, where he had troubles buttoning up his shirts.
On his World Stage match, Randy Boy Senior lost in the first round. When he returned home, he wasn't able to speak, and ended up dying 7 days later from the injuries received, and previous brain damage from his match with Miyata Senior.
Match History
Match History
Died 7 days after World Stage Match[1]
#
Result
Record
Date
Opponent
Location
Time
Type
Notes
?
LOSS
 ?-?-0
1980
Unknown
Unknown
1(10)
TKO
"World Stage"
[2]
?
WIN
 ?-?-0
1979-04[3]
Miyata Senior
Tokyo, Japan
12(12)
TKO
OPBF Title Match
Gallery
References
Community content is available under
CC-BY-SA
unless otherwise noted.