Randy Boy Senior, credited as Randy Boy (ランディー・ボーイ, Randī Bōi) was a featherweight professional boxer from the Philippines and the father of Randy Boy Junior.
He was nicknamed "Raccoon Boy", because he was ambidextrous, letting him use the Switch Hitting style. He fought against Miyata for his OPBF featherweight title, where he defeated the champion by what many thought was a "lucky punch".
Background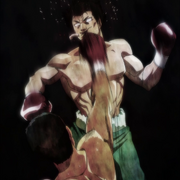 Randy travelled to Japan to fight Miyata for his OPBF featherweight title. When the match began, Randy was losing by points as the match entered the final twelfth round. During the twelfth round, Randy switched from southpaw to the orthodox stance as Miyata was throwing a counter, making Miyata miss. With Miyata open, Randy hit him with a counter of his own, shattering Miyata's jaw, and the match ended with Randy becoming champion by knockout.[1] Randy received career-ending injuries in his match against Miyata, causing his hands to shake uncontrollably and made him repeat things he already said. It also affected his performance in his next match, which was a world ranked match, where he was defeated by knockout in the first round. When he returned home, he wasn't able to speak, and ended up passing away seven days later from the accumulated damage from the two previous matches.[2]
Legacy
Randy's son became motivated to become a boxer to find the answer to why Randy went to the world stage even though he had symptoms of brain damage, wanting to know what the difference the world stage makes.[3]
Match History
Match History
Died 7 days after World Stage Match[4]
#
Result
Record
Date
Opponent
Location
Time
Type
Notes
?
LOSS
Unknown
19XX
Unknown
Unknown
1(10)
TKO
World Rank Match
[5]
?
WIN
Unknown
19XX
Miyata Senior
Tokyo, Japan
12(12)
TKO
OPBF Featherweight Title Match
Gallery
References