The Red Lightning Arc, also known as Asura Arc or Wheel of Destiny Arc, is the thirty-second story arc in the series and the fifth in the Survival Match of Asian Champions Saga.
Finally the fated battle between two rival boxer's sons, between "Lightning God" Miyata Ichirō the OPBF Champion against the OPBF Interim Champion, "Asura" Randy Boy Junior.
Summary
Confession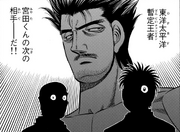 After Ippo defeated Gedo, Gedo mentioned that not all of his losses are fake losses. Gedo told them that he fought someone that shattered his dreams of reaching the World stage. That person was Randy Boy Junior.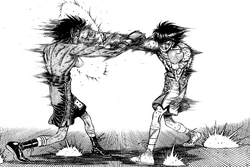 References