Mamoru Takamura (鷹村守, lit. Takamura Mamoru) is the deuteragonist in Hajime no Ippo.
He is a Multi-Weight Class Professional Boxer affiliated with the Kamogawa Boxing Gym. He is the current unified WBC and WBA Middleweight Champion in the series. Takamura has a personal quest to conquer all the next 6 weight classes, from Junior Middleweight to Heavyweight.
His surname is Takamura. In Japan, surnames are listed before given names.
Background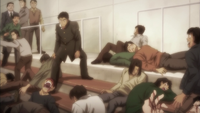 Takamura was the estranged middle son of the famous Takamura Enterprises, supported by his older sister Takamura Kyouka and younger brother Takamura Wataru. His eldest brother, Takamura Suguru, a former rugby standoff, constantly belittled his vast boxing accomplishments and carried on the stigma that Takamura is simply a thug that thrives on beating up others. One time during Suguru's rugby game, his team was crushed and fans were insulting him, that was when Takamura injured about 20 of the fans, making Suguru's team penalised with a year suspension. Despite his family's impressive wealth, Takamura lived off of his own earnings as a pro boxer.
As Kamogawa Genji was walking the streets of Tokyo one night, he witnessed a brutal beating being dealt to a number of delinquents by Takamura. Kamogawa took it as nothing but a senseless fight between delinquents until Takamura unknowingly executed a pro-class punch right in front of him. Takamura is then stopped by Kamogawa before proceeding with the fight as he did not want him to kill anybody. After being body checked by the coach, Takamura is then offered to box at the Kamogawa Boxing Gym. Takamura did not like the idea of fighting with rules, but decided to do it to "kill some time."
In the anime, Takamura is taken to the gym and immediately began working the bag, leaving Miyata's father, Yagi Haruhiko, Shinoda Tomoyuki, and Kamogawa in awe. He is then taken to run a course as guided by Kamogawa. Takamura had only desired to hit people and bailed on the Kamogawa gym shortly after. Kamogawa, not sure if Takamura would show up of his own free will, showed up at his house for several days ready to train him. Along with roadwork and pulling his scooter, Kamogawa forbade Takamura from using his right fist and to only work the bag with his left fist, going so far as to tape his right fist to his body. Kamogawa ended up getting sick from waiting on Takamura in the rain one day and did not not show up the day after, much to Takamura's pleasure.
He, however decided to train himself of his own free will after being forced to do it prior to Kamogawa's absence. After days of training, Takamura had his first match set up for him in three months. Takamura had a hard time dealing with this as he faced against a pro straight out of high school. However, once in the ring, Takamura realised how the training has affected him and knocks out his opponent in under a minute. It is then that Takamura declared to take Kamogawa to the world.
Part I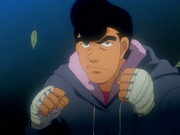 During road work, Takamura saw high school student Makunouchi Ippo getting beaten by Umezawa Masahiko and his friends. Takamura intervened, driving the bullies away and reluctantly taking an unconscious Ippo to the gym. There, he expressed his disliking for both bullies and those who simply let themselves be bullied. In order to make the frustrated Ippo feel better before leaving, he taught him how to do a straight and encouraged him to defend himself next time. Noticing his well-built body and incredible strength, Takamura gave Ippo a video showing a collection of Mike Tyson's knockouts, in an attempt to encourage him to practice boxing as a way of learning self-defence and relieve his stress.
After these events, Ippo asked Takamura to help him become a professional boxer instead of just simply a continuous student at the gym. Disturbed at the idea of someone taking boxing lightly, Takamura presented Ippo with a challenge; if he can catch ten falling leaves from a tree with his jabs within one week, Takamura would agree to help him.
After Ippo successfully passed the test, Takamura gave him a training menu to follow for a month before taking him to the gym. After introducing Ippo to the gym, Takamura is scolded by Kamogawa Genji, who thought Ippo was not boxing material. They ultimately decided to let Ippo spar against boxing prodigy, Miyata Ichirō, in order to determine whether or not he has a future in the sport. Takamura served as Ippo's second during the fight, advising him on different strategies and moves that got Ippo to the third round before being knocked out. Despite losing, they were able to gain the Kamogawa's approval and Ippo becomes a member of the gym. Takamura then served as the referee for Ippo and Miyata's second spar.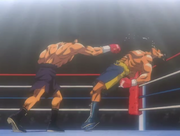 Due to Ippo losing his drive with Miyata being gone, Kamogawa had him train with Takamura for one week. During the week, Takamura took Ippo to his house, explaining how he got invited to the gym and started boxing. The day before Takamura's match, he told Ippo, who hasn't seen a match in real-time, that he would show him a pro's match. Takamura's JBC middleweight class match against third rank Hirano Kazuhiko commenced, and despite the harsh diet and training, Takamura won the match with a knockout, getting ranked first in Japan.
One month later, Takamura watched as Ippo and Mashiba Ryō win their pro test and was surprised seeing Mashiba's abilities. Takamura showed Ippo a tape of Mashiba's pro debut as he explained the Flicker Jab. When Oda Yūsuke was announced as Ippo's first opponent, Takamura and the others went to the Chuuka Soba as Aoki served them ramen. Aoki did fortune telling with cards and pulled a good card. Takamura later told Ippo that Aoki's fortune telling always has the opposite effect. Takamura watched Ippo's fight with Oda, then celebrated Ippo's pro debut win.
Takamura, along with the others, celebrated Ippo's first year in the gym at the Chuuka Soba. When Aoki told how his Rookie King Tournament went, Takamura pointed out that Aoki's opponent that beat him in the first match wasn't good. When Jason Ozuma is announced as Ippo's first opponent in the East Japan Rookie King Tournament, Takamura and the others believed it to not be his real name until his profile was shown to be American. After learning that Ozuma is an African American, he had Aoki paint himself black in order to help Ippo. After hearing about Ozuma's powerful hook, Kamogawa had Takamura to help Ippo with dodging hooks. He accepted the request and began throwing hooks for Ippo to dodge until he successfully dodged one. Takamura then watched Ippo's match against Ozuma.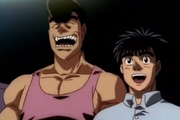 Takamura and Ippo watched Miyata's fight against Takada Teruhiko. After Miyata won, Takamura noted Miyata's growth. Takamura, along with the rest of the Kamogawa group, went to the training camp at the beach. There, everyone trained by running in the sand, sparring, and shadow boxing. When Takamura noticed Ippo's weak point, Takamura showed his bare foot to Ippo to show him his blister. He explained that Ippo needed to work on his feet to boost his speed performance. On the final night at the training camp, Takamura stated that the Japanese title is just a stepping stone and that his final goal is the world champion title. When he and the others got back to the gym, Yagi Haruhiko showed everyone the poster of Takamura match against the Japanese middleweight champion and Ippo's match against Kobashi Kenta.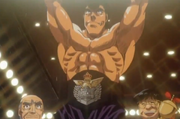 When the day of Takamura's match against the Japanese middleweight champion arrived, the match commenced. Despite an organised cheering squad being there for the champion, Takamura had the support of most attendants. Motivated by his dream of achieving a world title and returning with the JBC belt to Kamogawa, Takamura quickly rushed to his opponent as soon as the bell rung, but was hit by a counter, thus touching the canvas for the first time in his career. With the help of hearing Ippo, Aoki, and Kimura calling his name, he got up at the count of eight, and viciously knocked the champion out by shattering his jaw. After being crowned, he celebrated his and Ippo's win that night at the Sugar Ray. Takamura walked with Ippo to his house, before Ippo leaves, he was about to give his thanks to him for cheering, instead he encouraged Ippo to get the Rookie King title.
While Ippo trained for his match with Hayami Ryūichi, Takamura, Kimura, and Ippo ate at Chuuka Soba with Aoki serving them as they discuss Ippo and Aoki's upcoming match. When Aoki mentioned that he is nervous, Ippo tried to comfort him, but Takamura reminded him to focus on Hayami's match that is before Aoki's. Prior to Aoki's match, Takamura noted how the venue is filled with a lot of females. When he saw Ippo sitting next to a female, Takamura made him move in order to make him focus on Hayami's match. When Hayami entered the females start cheering for Hayami, which made Takaura angry. He decide to cheer for Hayami's opponent instead. After Hayami won, all the females leave before Aoki fought. Aoki then won his match.
The next day at the gym, Miyata visited to congratulate Takamura for becoming champion and Takamura discuss Aoki's match with him. Takamura jokes that Hayami's might be more popular than Miyata with female fans, but Ippo mentions he thinks something is wrong with female taste today since he thinks he would root for Miyata if he were a girl since he is cooler. After hearing that, Takamura warns Miyata to watch out since he thought Ippo was "Homo" before but it seem like really might be. When Ippo tries to approach Miyata about it, Miyata keeps his distance instead, while everyone runs away instead. While laughing, Takamura tells Miyata to give Ippo some slack since he is trying hard to fight him in the finals.
After Miyata's visit, Ippo's new plan to beat Hayami is to aim for a counter, and begins practising for it. While at Chuuka Soba, Takamura, Kimura, and Aoki discussed Ippo's Rookie King Tournament article in Monthly Boxing Fan. He notices Miyata, Hayami, and Mashiba have a big write up about them compared to Ippo's small one. Takamura mentions that he not surprised at it since Ippo's the Manbaken for it. Kimura tries to defend Ippo, but thinks he is unlucky since the other three are too strong. Aoki feels there is going to be a giant upset. After hearing that, Takamura mentions placing a bet on who will win the tournament. Kimura picks Hayami, Takamura picks Miyata, and Takamura forces Aoki to pick Ippo. After word, they head to Ippo's home and meet his mother. She tells them he is resting because of a fever. They yell at Ippo about it, but Ippo want to practice for his match while they are there. After seeing Ippo's determination, Takamura realises that the Manbaken might end up coming around.
The day of the match, there is a lot of cheering girls for it, which makes Takamura mad. Over the course of the match, Takamura watches Ippo defeat Hayami. After the match, Ippo thinks everyone for their help in helping him beat Hayami. When he gets to Takamura, he can't think of anything which makes Takamura angry and he chases after him. The next day, when Takamura and Kamogawa are doing roadwork, they see Ippo continue to train despite being injured, it motivates Takamura to train even harder. Later, Takamura attended Miyata's match against Mashiba with Ippo and Fuji. During the course of the match, Takamura offers his insights about it to Ippo. In the end, Miyata loses due in part to Mashiba's foul when he stepped on Miyata's foot.
After the match, he dicusses it with Fuji while Ippo tries to visit Miyata. Takamura wonders that Ippo only had Miyata on his mind and was able to reach the finals become Miyata was still there. He is worried about Ippo when he realises his goal is lost. The next day, when Takamura returns from roadwork he finds Ippo still punching a sandbag. He yells at Ippo and tells him to stop in fearing he damaged his fists, where Kamogawa tells him he isn't allowed to use his fist until they heal.
After Ippo heard that Mashiba is Kumi's brother he told Takamura, who then told Aoki and Kimura, the trio then teased Ippo about it. Fujii later arrives and gives them info about Mashiba's past. After hearing about, Ippo can sympathise with it, but he can't forgive him for what he did to Miyata. Takamura thought Ippo got over Miyata, but he see how deep Ippo's anger toward Mashiba was, where he is putting so much effort into practice in order to defeat Mashiba in the ring. It not about cooling his head, but putting his emotion into it instead. Kamogawa thought he found Mashiba's weakness with the hitman style. After hearing that, Takamura wondered how Ippo is going to take advantage of it with his difference in reach between them since Mashiba's arm reach is close to his.
Takamura attends Ippo's match against Mashiba. He watch Ippo defeat Mashiba.
Takamura met Sendo Takeshi, who visited the Kamogawa gym, in the shower when Takamura mistook him for Aoki. Kamogawa left the gym to look for boxers in Thai for Takamura, which fired up Takamura into wanting to spar. Takamura then sparred with Sendou, who made Takamura angry when he purposely hit him with an elbow. Sendou then used the Smash, surprising Takamura, who immediately knocked Sendou out with one punch, ending the spar. Before Ippo fights Sendou with an injured fist, Takamura told him the time he fought with an injured fist in his fourth match. Takamura celebrated with Ippo after he won his match against Sendou, during the celebration, Takamura and Kamogawa fought, which ended in Kamogawa getting knocked out and everyone leaving.
Takamura makes an appearance in this arc.
Takamura makes an appearance in this arc.
Takamura makes an appearance in this arc.
Takamura makes an appearance in this arc.
After becoming the Japanese middleweight champion, Takamura successfully and easily defended the title four more times after the Kamogawa Gyms training vacation to the mountains where
Nekota Ginpachi
put them through his woodland training exercise that was much more difficult then anything the had experienced before, despite this Takamura easily completed it and at the end of the week went into woods claiming he'd come back with a bear for dinner, to which the everyone regarded as a joke. In reality however Takamura was serious and when he found it he was attacked by it and presided to be viciously beaten and lacerated by the Bear's monstrous claws and arm strength.despite his injures and inner doubt Takamura overcame both and the upper hand by counter-punching the Bear's head while it tried to attack him, eventually after one last fatal blow Takamura KO'd the bear and to his own disbelief let out a massive victory cry while standing triumphant over the Bears corpse.
Takamura was surprised however to discover that the bear was still alive despite the shear bludgeoning it took from his fists. Angrered by it's stubbornness, Takamura prepared to kill it by stomping it's already fractured skull. However Takamura saw two young bear cubs staring innocently at their mother who Takamura realized he had beaten to near death. After seeing this he lets the bear alive but only out of respect for the mother and not sympathy for the Cubs. He returns to the lodge where he received a scolding by Kamogawa for being so reckless that he got himself injured and a mocking by his friends believing that he lied about his story and that he actually chickened out and ran away, but they stopped after he threatened them and called them jealous liars as well as reminding them that ran away screaming from the same bear while doing roadwork, just days prior. However the rooms mood turned to joy Nekota brought out bear stew for everyone to eat.
Takamura asked where he got it because that they didn't have any bear meat, to Nekota replied that he found a very injured bear surrounded by her two cubs in the woods. Takamura realizing this was the same bear that he fought gets extremely angry and upset and roars at him for killing the bear after he spared her, because he believed she deserved to live. Everyone looked his face, shocked at how serious it was and slowly realize he was telling the truth. Distraught by this truth Takamura breaks down crying while proclaiming that only he will eat the bear out respect, screaming in agony while he does.
After this they say their goodbyes and go home the next morning. After they get back to the gym Takamura tells many reporters about how he defeated the bear. Later during his title defense against Itou Takaaki, Takamura asks Nekota to bring him the Bears skin and wear it during his ring entrance not for boasting but mainly out of respect for the bear being his greatest opponent at the time and to give it the glory it deserves.
Everyone including his opponent and their coach get angry at him and say that he's lying, saying he just bought the skin and don't believe the story, much like Takamura's gym mates earlier on. The opinions change however when Takamura takes off the skin then reveal his three bear claw scars that he received during his battle with the bear, after seeing this everyone gasps in shock. The match starts and Takamura knocks his opponent out easily with repeated left jabs the face, intentionally referencing the quote "He who rules with his left, rules the world!" showing his dream to get the world titles.
Takamura makes an appearance in this arc.
Takamura makes an appearance in this arc.
Takamura makes an appearance in this arc.
After Ippo's match with Hammer Nao, he stops by Ippo's place and kidnaps Wanpo to take with him to training camp at the Beach with Kimura and Itagaki. As they are running in the sand at the beach, Takamura is hit by a beach ball, thrown by Ippo, who is supposed to be resting at his house. After Takamura catches Ippo, he tries to make him confess but he gets saved by Hachi instead. Takamura notices Aoki, Kumi, and Tomiko, and later joined by Nekota, who decided to come to the beach after hearing they were suppose to be there. Takamura angry that Ippo is with a girl, warns him not to interfer with their training as he leaves.
That night Takamura, Kimura, and Itagaki are sneaking up on a couple that are fooling around on the beach. Takamura then goes up to the couple and fondles the woman's breast. Then as soon as one of the fireworks blast into the sky, the couple is revealed to be Aoki and Tomiko, where Ippo and Kumi are revealed in the background. Everyone one is shocked and horrified at the scene, where Aoki becomes angry at Takamura as everyone runs away. Takamura finds himself in the middle of the water, he tries to get out, but hands are preventing his escape, after thinking about the world title, he escapes the grip. Kimura and Itagaki then finds Nekota and Hachi beaten on the ground with Takamura flailing in the water.
The next day while training, after Kamogawa and Yagi leave, Takamura notices Ippo and Aoki hanging around. Takamura tries to praise Aoki, but his 'praise' just made Aoki more angry. Aoki then gives Takamura the okonomiyaki (that he put a sea slater inside), Takamura then insists on splitting it. Aoki tries to find out which half has the sea slater in it, but Takamura shoves it in both of their mouths. Itagaki then asks to spar with Ippo, asking if it is alright to not hold back. Takamura acts as Itagaki's 2nd while they spar. Itagaki ends up geting KD a few times in it. Afterwards, Itagaki talks about his past.
Later Nekota brings over fireworks, Takamura wants to do them during the day, as he warns during the night, there are ghosts out. That night, as everyone gets ready for the fireworks, Takamura goes to the bathroom and finds a sea slater in his stool, which he believes is part of his 'curse'. Takamura doesn't join everyone on the beach becuase of that curse when they are lighting fireworks, but he spies on them instead. As everyone is having fun, Takamura looks on, claiming Aoki and Kimura are dead men. As Ippo and Itagaki does not seem fazed that Takamura is gone, the latter states that is four dead men as he lights up fireworks aimed at the party, but the fireworks did not light up. The group then notices Takamura, who states he will just go back, as he will just get in the way. After Ippo and Itagaki's sweet talk and everyone cheering for him, Takamura finally joins the party, as he orders everyone around. Itagaki asks Ippo how his first training camp went, the latter explained he was hoping to be the Rookie King at the time. Nekota states that the fireworks are just like boxers, but Takamura insists that they are the stars above them. Takamura's fireworks from earlier start going off towards their direction as they run away.
After they return to Kamogawa Boxing Gym, they find out that Ippo was pushed in a spar against a newcomer. He finds out it is Itagaki's high school rival Imai. Itagaki explains history with Imai. Takamura asks Ippo, who fought both, who would win in the pro ring, but Ippo really doesn't know. Kimura then states that he should see Imai in the East Japan Rookie King Tournament to get his revenge. That night, Takamura's World title match was announced. Ippo arrives to the Chuuka Soba and is surprised to see everyone is down. Ippo then notices that the announcement was too sudden and being in December would not give Takamura enough time to recover from his match in October. Ippo then continues, stating he would have to be in the Junior Middleweight for the entire time, making him weak, which is their strategy. Ippo suggests to decline and wait for the next time, but Kamogawa already gave them the 'OK'. Takamura then holds up a picture of the WBC Junior Middleweight Champion Bryan Hawk, stating that in December, he will give him the belt.
Before his title match with Bryan Hawk, Takamura meets with Suguru, where Suguru offers him a job at the family business when "he is done beating people up." It is later revealed during Mamoru's fight with Hawk that Suguru is very proud of his brother's triumphs and was simply offering him a job because he cares for Mamoru and wishes him to have a more reliable and less threatening future, since he comes from a wealthy family.
Part II
Takamura makes an appearance in this arc.
In order to get away from Aoki's fade, Takamura decides to travel around Japan. He visits various places while traveling. He returns in time for Ippo's match against Karasawa Takuzou
During the Press Conference before the match, Takamura makes a comment that he no longer has a reason to stay in the Middleweight division. When he heard Fox means "Kitsune" in Japanese, he mentions that after this "Fox Hunt", he will conqueror the Super Middleweight Class next. When Richard Fox heard, Takamura's comment, it made him mad, where he wanted to get into a fight with Takamura at the Press Conference.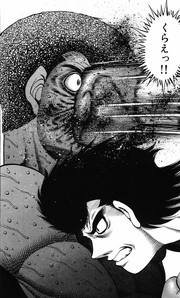 Prior to the match, Kimura Tatsuya had a rematch fight with Eleki Battery, where it also ended in a draw. Aoki Masaru also had a rematch with Papaya Dachiu, where that also ended with a draw. Ishii Yuuta had a match next for the Bantamweight World title, but he ended losing the match in the 2nd Round.
Takamura vs Richard Fox
Takamura starts the match with yell, "This is called "His-satsu" and it means instant death!" He then proceeds to land a punch on Richard Fox, knocking him out and winning the match in the 1st Round in under 3 minutes. Takamura knocked him out in 2:47 of the first round.
After his title defense, Takamura heads to Nekota Ginpachi's place. While playing Nekota's board game, they discuss Mashiba Ryō vs Sawamura Ryūhei upcoming JBC JR Lightweight Title match. They decide to return to Tokyo in order to see it, despite the fact a blizzard is happening outside.
Takamura takes part in a baseball game with Kimura, Aoki, Itagaki, and Ippo.
Fist of a King
After thinking about himself being the only one not having a signature move,(with an animal in the name) he decides to study a variety of animals, and his decision stops on the beetle in which he utilizes the way they attack by flipping someone over.
For possible animal idea's to find the "Fist of a King", Takamura went to the Zoo, traveled crossed rivers, fields, and headed deep into the mountains, where he found it - The Kabuto Beetle. Takamura's new punch that he came up with is the Beetle's Uppercut, where he plans to show case it the match against Rickey Mouse.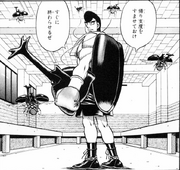 Prior to the match, Takamura enters the rings wearing a giant Kabuto Beetle Outfit with his two WBC Champion Belts around his waist. Rickey and his coach thinks Takamura is looking down on them, and not taking this match seriously. As Takamura gets into the ring, the horn on his outfit breaks, where the crowd thinks he looks like a cockroach instead.
As the match starts, Takamura starts to throw the Beetle Punch from the very begin, but Ricky Mouse is able to dodge it. Rickey is shocked at how much power is behind the punch, where if he would hit him, his face would be torn off. Takamura continues to throw the punch over and over again, but Ricky Mouse is able to dodge it over and over again.
Kamogawa thinks Takamura's Beetle Punch is a full telegraph punch, and there is no way something like that would be able to land it in a World title match. Rickey Mouse got Takamura's punch memorized and is planning to throw a counter the next time he throws it, but when he throws he didn't step in far enough and Takamura is able to dodge it.
Takamura continues to throw the Beetle Uppercut, more and more. Takamura forces Rickey Mouse to the ropes, where Rickey Mouse wants to throw a counter. Rickey Mouse steps in to throw it, but Takamura also steps in for the Beetle Upper cut, where Takamura accidentally hits Rickey with his opposite hand catching Rickey Mouse off guard.
Rickey Mouse goes down and is unable to stand again. Takamura is declared the winner. In the interview with Reporters after the match, Takamura mentions that was his original plan.
After hearing about Miyata sparring with two opponent's, Takamura tries to spar with 3 opponents in order to prove to Kamogawa that is ready to conqueror his next weightclasses. But during the spar, Takamura gets touched, despite the fact he ended up beating them. His next title defense is decided against Ronald Duck, with Miyata Ichirō vs Randy Boy Junior, and Aoki and Kimura having matches that take place before it.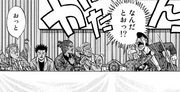 At the Joint Press Conference with Miyata Ichirō and Randy Boy Junior, Takamura and Ronald weren't given time to talk since it was all used up by Mr. Sakaguchi.
Prior to the match, Kimura Tatsuya and Aoki Masaru ended up losing their match, setting up a strange atmosphere for the event. When Miyata vs Randy was about to start, Takamura didn't like Miyata's flashy entrance for it, and worried his wouldn't be flashy enough. After Miyata defeated Randy Boy Junior, some of the crowd started to leaving forgetting about Takamura's match because of how impressive Miyata's match was. When Takamura see's the crowd leaving before his match, it makes him angry. Takamura wearing his Kabuto Beetle outfit, enters the ring. Takamura gets more angry, when his entrance isn't flashy like Miyata's Lightning special effect.
When Ronald's side see that Takamura is mad, they decided to keep him mad and off balance in order to win the match. Takamura decided to have a flashy win instead, in order to stand out. Before the match starts, Takamura tells Kamogawa Genji, "Get Ready to Leave! I'm gonna show you something that'll blow you away!"
Ronald Duck vs Takamura Mamoru
In the 9th Round, Takamura's Right Eye is now swollen shut. Ronald Duck has secured a clear point lead. Ronald uses a hit and run strategy, while Takamura continues to throw big swings. Each Big Swing, Takamura continues to come up empty, and the Round ends.
Kamogawa starts to mock Takamura, about his "Big Swing" are suppose to blow him away, or his swollen face. Takamura continues to fight angry, and wants to kill Duck in the next Round. Kamogawa tells him fight smart, and he can still salvage this match, but Takamura doesn't want to listen to him. He tells Kamogawa that he won't look cool enough unless he hit him so hard, his head hits the ceiling or he goes through the floor of the ring...
Duck's coach thinks they are going to win the match. The 10th Round starts, and Takamura continues to swing big again, in vertical arcs but they don't land. Duck continues to land lefts on Takamura, where the damage is starting to effect Takamura's legs. Duck starts to use his right, and lands it on Takamura when Takamura stopped moving.
Duck continues to land punches on Takamura. While Takamura punches, Takamura wonders what is going on. He starts to put the blame on Miyata, but realizes it is Mr. Sakaguchi's fault. Takamura takes a big swing again, but continues to hit nothing but air.
Takamura takes a jab to the face, but he manages taps Ducks Forehead with his left, before he lands solid Right Straight on Duck's face. Duck grabs Takamura, before he starts to slide down and falls to the ground. Takamura is declared the winner.
The Crowd ends up booing and throwing stuff at Takamura because of his poor performance. While heading into the locker room, Takamura continues to swing his arms, where he unknowingly and accidentally hits Mr. Sakaguchi coming out of the rest room, where he bounces off the wall and hits the ceiling.
During the Class A Tournament, Takamura watches Kimura, Aoki, and Itagaki win. After Iga Shinobu defeated Katsutaka Imae, Kurita Baron is standing in the corner. When Takamura notices Marron, he mentions its not good and he's got to let Aoki know. Takamura goes to waiting room, and mention "Aoki, look out, that fool packs one hell of a punch." Aoki agrees since it's 4th KO in a row, but Takamura adds,"Pretty Decent? Man, you really don't get anything do you? We're talking about "Iga" and "Kuri" teaming up here. I can't think of anything more painful. (Note "Iga" means "Burrs", so "Igakuri" means "A chestnut with its burrs" Burrs is the very spiny and sharp outside of his shells.)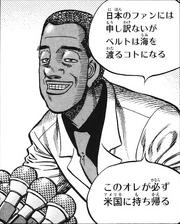 In the Press Conference the day before the match, Peter mentions he will be bring the belt back with him to America. When they ask Takamura about the match, he ends up causing a scene when he flips the table over after learning that Ippo when to eat with out him.
Prior to the match, Takamura walked out wearing a badly painted Panda Outfit causing the crowd to boo him and throw stuff at him, which causes Takamura to be a little hostile toward the crowd. Peter remarks that he doesn't want to get KO to a clown in this circus match.
In the 11th Round, Takamura been on the offensive since the 1st Round. Takamura's been throwing nothing but Big Power Punches at the opponent, but he always seems to dodge them. Peter shows great dodging skills, when the round end.
Peter's trainer mentions that his Passive Aggressive decision to avoid getting KO'd has paid off. They have a slight point advantage in every round. With 1 Round left, as long as he hold out for 3 minutes, he will win. His trainer advises him not to fight. If he fights Takamura there is a chance Takamura could get him. As long as he stays away, he should win it. Peter thinks it might be too passive aggressive, but his trainer tells him not to whine and get greedy, act like a Professional and take the belt.
The 12th Round starts, and Takamura continues to throw big power punches, and Rabbitson continues to dodge them. The Crowd starts to complain, thinking Takamura's trying to copy Ippo's match against Kojima and win it with one punch. Takamura become distracted and yell at the crowd, allowing Peter to hit him. Takamura tries to hit Peter again, but hits nothing but air.
With One Minute Left in the Round, the crowd thinks Takamura is going to lose. Not happy with how Takamura fought, they start cheering for Peter Rabbitson instead. Cheering catches Peter Rabbitson off guard. Even though he is on enemy turn, they are cheering for him. The cheering starts to go to Rabbit's head, and tries to go in for the kill on Takamura. Instead at the last minute, Takamura lands a KO punch on Peter Rabbitson to win it.
After a poor performance against Rabbitson, Takamura head to Mayweather Bar to have a drink. He over hears, Date Eiji, Sendō Takeshi, Mashiba Ryō, Saeki Takuma, and Okita Keigo talk about him. Date (while drinking) asks them why they are angry, but then adds he knows it is because of Takamura. He criticises Takamura's match and his poor performance in it. Date thinks Sendo might be disappointed with it after coming from Osaka for it. Sendo agrees. Okita, Saeki, Mashiba and Kumi decided to complain about Takamura in order to lighten the mood. After Mashiba mentions Takamura's Panda outfit, Kumi is about to agree with him when she noticed it at the bar. They then all notice Takamura sitting there with it.
Takamura gets up to start to leave, but he decides to block the exit instead. Date continues to increase the tension by criticizing Takamura, which scares Mashiba, Sendo, Okita, and Mashiba. Mashiba tells Kumi to go out the back exit while he tries to buy time. Kumi tries to get them to stop and not fight, but (drunk) Date tells her to either back them up or be quiet. Date asks Takamura that if he think he can fight with this group (Date, Mashiba, Sendo, Saeki, and Okita) and not expect to come out of it in one piece. They charge at him and end up getting into a bar fight. They end up losing, and Kumi putting bandages on them after the fight.
Takamura discover's Aoki's weakness.
After Aoki lost to Iga Shinobu, in the corridors of Korakuen Hall, Iga saved Baron from Takamura by grabbing Takamura's arm as he was about to throw a punch. In response, Takamura grabbed his hair and asked him if he was "gonna bark for Kurita" since he trained him. Before leaving, Takamura warned him and Baron that their actions weren't going to stand and that the day would come where they would whine like dogs.
After Sendō Takeshi defeated Ippo in a spar, Takamura mentions to Sendo that Ippo's weaker. But Sendo thinks that he is just stronger.
The day after Ippo lost toAlfredo Gonzales, Ippo runs into Takamura during his roadwork. As Takamura leaves, Ippo apologises to Takamura for losing since he did commentary for it. Takamura lectures him for not resting, where Kamogawa would kill him if he knew. He adds that Ippo fought hard last night, where he should go home and rest. Ippo expected Takamura to make fun of him, and is suprised he didn't. As he leaves, Takamura makes a pun about not to let it dickpress him too much, which Ippo hears as depress and appreciates him for trying to cheer him up.
After healing from his wounds and begin training again, Ippo heads Kamogawa Boxing Gym. While think what to say, Takamura catches him outside and brings forces him inside. Kamogawa Genji and Yagi Haruhiko arrived later, and they learn the doctor gave Ippo the okay. Kamogawa asks Ippo why he lost his matches, and Ippo tells him that he tried his best but in the end, Alfredo was just stronger, and he wasn't good enough. He won't make any exuses over it. Kamogawa is disappointed after hearing it, but mentions it is back to square one, where they have start over from the beginning.
Kamogawa tells Ippo he wont have any matches for a while, and he will be assisting Takamura until then. Takamura makes his dickpress joke to him again. He mention he doesn't need any help, but if Ippo is going to follow him to try not to get in his way since his next title fight has been decided. He is having a Unification match for the WBC and WBA titles. Yagi mentions it took a lot to arrange, and they decided to have Sendo and Mashiba before the main event. Everyone is suprised they didn't get someone from the same gym to fight before it, but Takamura said it is natural since everyone is consider a loser, and proceeds to make fun of them while taking off his pants, and rubs it in.
The next day, while training, Ippo is following Takamura. During Takamura's break, Ippo mentions after watching his match with Alfredo, that Takamura knew the reason why he lost. He wonders if he has become weak. Takamura tells him that he should know better than anyone. He mentions that he didn't make any excuses to Kamogawa about it. Ippo agrees, but Takamura tells Ippo Kamogawa was hurt. Takamura mentions that Kamogawa wanted Ippo to make an excuse, where he probably get mad and tell him not to be pathetic. Then, he make a sour face and tell him to deal with hit.
Ippo still doesn't understand what he is talking about, but Takamura tells him once you accept it, you're done. No matter how small a point it is, you need to gripe about it. Ippo thinks that would just make Kamogawa angry. Takamura agrees that he would be mad, or hit him, but he would be happy too. No matter how unsightly, arrogant, or lame it seems, it keeps you fighting. Ippo still feel he can't make excuses, and feels if he fought him again he would lose since Alfredo was just stronger. Takamura mentions if you admit it, then it's over. for a man to stand up again, he needs one thing, to make excuses. Not making excuses is a sign you had enough and ready to hang it all up. Boxers who keep at it, even though Aoki and Kimura seem like a joke still have that fire inside, even Date should know it.
While under the tree that Ippo caught those leaves, Takamura starts remember the based and is impressed with what Ippo has done. He tells Ippo he did good, but not to force himself to keep going. Ippo mentions he wants to keep boxing, but Takamura says he can as a hobby. He adds that since Ippo wanted to be strong, JBC Champion is plenty strong. While marking a line on the ground with his foot, he tells Ippo he can't handle what comes next. He congraduales Ippo for pushing himself to the his limits, but if his motivation is just to see how far he can go, then Ippo should stop while he is ahead.
He tells Ippo that the line he made is the World, and not to cross it. He tells Ippo that he should happy that he got to be JBC Champion while treating it like a happy, but don't cross the line with a half assed attitude and give him (Kamogawa) false hope. Ippo still doesn't understand what Takamura is talking about. When Ippo starts to step over the line, Takamura stops him. He warns Ippo that he cross it and he is dead since past that line, that's where only real monsters can survive. If Ippo wants to stay human, he better not cross it. Ippo is shocked, and Takamura leaves him.
The next day, Ippo continues to follow Takamura while training, and he has a hard time keeping up with him. Takamura is still angry with Ippo. During Takamura's break, Ippo mentions that Itagaki thought Takamura was in a rush to win World titles. Takamura asks Ippo how many matches he can fight, and mentions that he can probably live till he is 130, where he stays invincilbe. Takamura wonders how much more work he has left before he can take the Heavyweight title. In order to get what he is after, Takamura can't afford to hesitate. Takamura takes off running, and Ippo can't keep up with him.
During the Press Conference with Richard Bison, Bison mentions he thought he would be fighting David Eagle for it. He can't wait to take Takamura's belt. Takamura doesn't have anything to say, and he wants to get the fight over with. Prior to his match wit Bison, Mashiba Ryō and Sendō Takeshi were able to win their matches, but Tsuchiya lost his World title match. Takamura enters the rings with wearing a Hawk outfit.
After Takamura defeats Richard Bison, he has a victory parade.
Takamura's at Nekota Ginpachi's place chopping wood for mental training. After his meeting with Yamaguchi Tomoko, Takamura realised that even though he is physical limit, temptation can still mess with him after getting distracted by her breasts. After hearing about it, Nekota thinks anyone would have a similar reaction.
At dinner, Takamura tells Nekota that he thinks he doesn't get enough respect. They offer him a People's Honor Award, but go back on it. No one attends his parade, his dick gets compared to Ippo's, and not a single good thing happened to him lately. Nekota sympathize with him, and asks him how he likes the food. Takamura enjoys it, and Nekota mentions he added a special ingredient that makes it less gamey. Worried, Takamura wonders if he killed one of the bear cubs, but Nekota mentions it is boar meat. He adds the he got the idea for the special ingrident from gourmet coffee, where they feed coffee beans to animals, and collect the partially digested bean from the crap. Takamura now worried wonders what kind of crap he is talking about, but Nekota doesn't answer. After trying more, he ends up liking it.
Takamura returns to Tokyo in time for Aoki Masaru and Kimura Tatsuya's comeback matches after losing in the Class A Tournament. Takamura meets Aoki, Kimura, Tomiko, and Team Aoki before the match, where he confronts Tomiko for wearing too much make up. During their matches, he mets The Regular in the restroom. After they win, Takamura watches Iga Shinobu fight Oushima Souji for the JBC Lightweight Title match.
When Iga enters, Takamura noted that he is only calm because Marron is with him, where there's probably a lot of trust and reassurance there. Takamura thought that Marron's working the Mind Control Angle, since Marron's got a way with words. He think it's like some kind of symbiotic relationship that brings out Iga's Inner strength. Itagaki mentions a strong between trainer and his fighter, but Takamura thinks it is more like a dog, where Iga's is Marron's hunting dog or lapdog.
After Iga wins the match, Aoki wants to challenge the loser. Takamura tells them to let Aoki do whatever he wants as long as it heps him get stronger. In the end, what justifies a boxer's existence is how stronger they are. He tells them that they have no chances of catching him, but they should chase after their own goals with everything they got. After the match, Takamura meets the Regular again sleeping outside of the race track. The Regular mentions he is a gambler, and Takamura discusses with him on what he should do about his gymmates.
The Regular mentions that getting attached can cloud his judgement, where he should abandom and be free. Takamura thinks he has a point since they suck, but keep trying, only to end up sucking more. He's not worried about them, but feels they are standing at a crossroad right now. Takamura leaves after giving the Regular an empty can.
Later, Takamura watches Ippo spar with Matsuura. During the spar, Ippo shows signs of the new Dempsey Roll. On the roof, Takamura sees Yagi Haruhiko shadow boxing and in a good mood. Takamura makes fun of his poor shadow boxing, and asks what Yagi is happy about. Yagi mentions that the new Dempsey Roll is starting to take shape, and he wonders what it will turn into. He thinks Ippo will return to the ring with New Dempsey Roll and might shock the world.
Takamura doesn't care about it, and he tells Yagi to set up a match for him, but not another Middleweight, since he wants to relinquish the belt. He is ready for Super Middleweight, and he plans to win it along with the other weightclasses. He plans to keep on bring in more belts. Yagi tells him it has been hard negotiating, where it is not easy to arrange fights, not to mention it cost a lot of money. As he leaves, Takamura tells Yagi that the gym has him, and it is all it needs. He adds that the should get your hopes up for Ippo since he will just disappoint them all over again. There is always hope, but he doesn't think so in Ippo's case since expecting anything from Ippo at this point is a bad idea.
Later on, after Ippo start to perfect the new Dempsey Roll, Ippo meets Takamura shadow boxing on the roof of Kamogawa Boxing Gym. Ippo starts to copying him, but ends up mess up Takamura. Takamura asks Ippo if he is going to make "him" happy and actually going to deliver. Ippo doesn't know what he is talking about, but Takamura adds that he doesn't think Ippo is actually up for it. He tells Ippo if he is not willing to go all the way, then he should n't get people's hopes up. Since the gym has him, Ippo can relax. He is talking about living up to expectations, where he is still on the rise and continue to take them to new never before seen heights. Since Ippo is a small guy, he wonder if he can carry that kind of burden. Ippo doesn't know, but promise to put everything into his next match.
Nagumo Ryuji visits Kamogawa to spar with Ippo in order to prepare for his upcoming World title match. After seeing Ippo take a down on him quite easily, and Kamogawa stops the match, Takamura tells Kamogawa that Ippo is broken. He mentions Ippo got KD by Aoki's Frog Punch, he had trouble dodging in his previous spar, where he thought he dodged, but gets nailed anyway. The same thing probably happened in this spar. He mentions Kamogawa should have noticed it too, but Kamogawa doesn't want to hear it.
Takamura makes an appearance in this arc.
Part III
Before Kimura Tatsuya's match, Takamura runs into Ippo outside of Kourakuen Hall. Takamura calls Ippo a "Junker" and he wonders what he is doing there. Ippo tries to get Takamura to stop calling that name, but Takamura offers to call him P.D. (for Punch Drunk) instead. Ippo disagrees since he wasn't P.D., only a candidate for it (PDC). Ippo tells Takamura he is now a 2nd for Kimura's match. Ippo starts to go inside, but Takamura decided wait a bit after seeing The Regular off in the distance. Before Ippo's leaves, Takamura takes his wallet, which has no money in it.
Inside Kourakuen Hall, Takamura runs into Ippo, Kobashi Kenta, and Iimura Mari discussing Hayami Ryūichi's match. He mention that Hayami is already a legend. A Legendary Junker. Ippo disagrees, and Kobashi want him to disagree with Takamura but is scared instead. Takamura adds anyone that calls themselves a "Pro" where breaking down is natural. There is no way to keep fighting without some risk to life and limb. No excuses, you just bit your tongue, and lick your wounds in private. Kobashi start to apologize, when Ippo tells him not to since Takamura is the one that is at fault here. Kimura's match is about to start. Ippo wants Takamura to stop calling him a Junker if he does a good job as a 2nd, and to pay him back his money. Ippo takes off the weights on his arms and gets ready for for his debut as a second at Kimura's match.
Takamura watches the match with Ippo as a 2nd. He laughs at Ippo's antics during it. In the end, Kimura was able to win the match thanks to Ippo's help. After the match, Kimura continuously claims he won by himself, and Ippo tries to get his empty wallet back from Takamura, Hayami tells them to shut up. Hayami states he is reflecting and deliberating for his next match in order to win. Aoki then states that he should quit for his own sake, but Hayami refuses, as he wants to be a legend for everyone that is cheering for him. Hayami then asks why Ippo demoted himself as a support role, never to be a protagonist again, in which Ippo replies with a glare. Takamura then claims Hayami is already a legend, remembering the time the latter fired everyone up at the gym during karaoke night. Later, Takamura, Aoki and Itagaki goes karaoke as Ippo and Kimura head home.
At Márquez, Takamura enters asking Miyata about the missing cat flier, where he claims it is his to have been missing for a week. After hearing Takamura say it's his cat, he asks for a description, Miyata claims that it doesn't fit the description of Sarate. After making fun of Miyata for having a cat, Takamura states that Miyata shouldn't be stuck in the same place and to live up to his potential. Miyata then asks for the manager to kick Takamura out. After that fails, Miyata calls the police on him.
Later on, Ippo visits Kamogawa Boxing Gym when Kamogawa is there. Kamogawa mentions Takamura has match coming up, where he starting his training for it. Ippo begins mitt training with the Coach like old times, while outside Itagaki, Aoki, Kimura, and Takamura watch it. They start to comment on it, and enjoy seeing it. Ippo ends up borrowing mitts from Kamogawa in order to teach Taihei Aoki.
During a typhoon, Takamura, Itagaki, and Kimura arrive at the Chuuka Soba, where they asked what happened to Ippo. Aoki tells them that he left to turn himself in to the police. After hearing the story (that Ippo slapped Taihei), Takamura states that violence is violence, Itagaki points out that Takamura hits people in the streets and he's the world champion so he should turn himself in, which Takamura says he's a special case as he's always forgiven. Teru Okazaki and Umezawa Masahiko feel somewhat responsible for it. Takamura asks why Umezawa's face is beaten up, Umezwa replies that it was just an underling hitting him. Umezawa states he has never seen Ippo make a face like he did. Remembering that it didn't look like a face a human would make.
Later, Teru states that Taihei has had a reputation for being strong before Ippo taught him boxing. He then talks about Taihei's brother who is dead to Taihei because one day at elementary school, he went to see his brother off, but all he saw was a laughing stock. Seeing everyone laughing at him made his spirit break and has been fighting ever since. Takamura and Aoki then believes that Taihei's problems are his brother's fault.
After a week, at the gym, Itagaki, Aoki, Kimura, and Takamura talks about Ippo's situation with Taihei. Takamura comes to a conclusion that the real villain is Taihei's older brother and prepares to show off his "Special 7-Years Killing: 100 Shots" that he will use on him, with seven plates in front of him. Takamura shows everyone the "7 Years Killing", by breaking three out of seven plate with two fingers. While talking about using it for Taihei's older brother, a bald Ippo comes into the gym and asks for Kamogawa in order to say his apologises.
Kamogawa gives Ippo a punishment in order to atone for what he did, where he got to clean the gym for three months, and to lead Taihei Aoki and Kintarō Kaneda, who come to join Kamogawa Boxing Gym. Takamura yells at Taihei and Kanade for making too much noise, and hits them. Kimura and Aoki notices Taihei. Ippo becomes shocked when he hears Kimura state that Taihei is Aoki's little brother. Aoki and Taihei talk about their past (being on TV.) Aoki tells his younger brother how he never thought twice about helping him and the other siblings. Takamura, after finding out that Aoki is the older brother, proceeds to chase a terrified Aoki and sticks his fingers into his anus as a punishment for making Taihei get into fights.
Later on, Takamura runs into Ippo, Taihei, and Kaneda sweeping outside Kamogawa Boxing Gym. He hits them for making it seem like a it is a temple. He attacks them, where they decide to go do their roadwork.
Match History
Match History
#
Result
Record
Date
Opponent
Location
Time
Type
Notes
25
WIN
25-0-0
1999-1
Keith Lycaon[1]
Tokyo, Japan
1(12)
KO
WBC & WBA Middleweight Titles
WBA Middleweight Title 1st Defence
WBC Middleweight Title 6th Defence
24
WIN
24-0-0
1998
Richard Bison[2]
Tokyo, Japan
6(12)
KO
Middleweight Unification Match
WBC Middleweight Title 5th Defence
23
WIN
23-0-0
1997-10-25
Peter Rabbitson[3]
Tokyo, Japan
12(12), 1:27
KO
"OPERATION-WORLD DOMINATION II"
WBC Middleweight Title 4th Defense
22
WIN
22-0-0
1997-04-15
Ronald Duck[4]
Yokohama, Japan
10(12)
KO
"WORLD CONQUEST PROCLAMATION"
WBC Middleweight Title 3rd Defence
21
WIN
21-0-0
1996-09-12
Rickey Mouse[5]
Tokyo, Japan
1(12)
KO
"OPERATION-WORLD DOMINATION"
WBC Middleweight Title 2nd Defence
20
WIN
20-0-0
1996-03
Richard Fox[6]
Tokyo, Japan
1(12), 2:47
KO
WBC Middleweight Title 1st Defence
19
WIN
19-0-0
1995-08-27
David Eagle[7]
Yokohama, Japan
8(12)
KO
A PASSING POINT
WBC Middleweight Title
18
WIN
18-0-0
1995- 4-20
Larry Bernard[8]
Tokyo, Japan
1(12), 0:49
KO
KING OF HAWK
WBC JR Middleweight 1st Defence
Relinquish Belt
17
WIN
17-0-0
1994-12-20
Bryan Hawk[9]
Tokyo, Japan
8(12)
KO
"BATTLE OF HAWK"
WBC JR

Middleweight Title

16
WIN
16-0-0
1994-10-14
Morris West[10]
Tokyo, Japan
6(10)
KO
"APOCALYPSE NOW"
15
WIN
15-0-0
1994-5
Unknown[11]
Tokyo, Japan
3(10)
KO
World JR Middleweight Match
Becomes 2nd Ranked in World
14
WIN
14-0-0
1993-08-30
Itou Takaaki[12]
Tokyo, Japan
1(10)
KO
JBC Middleweight 4th Defence
Relinquishes Belt
13
WIN
13-0-0
1993-01
Tamaoki Atsushi[13]
Tokyo, Japan
2(10)
KO
JBC Middleweight 3rd Defence
12
WIN
12-0-0
1992
Unknown
Tokyo, Japan
1(10)
KO
JBC Middleweight 2nd Defence
11
WIN
11-0-0
1992
Unknown
Tokyo, Japan
1(10)
KO
JBC Middleweight 1st Defence
10
WIN
10-0-0
1992-04-20
Bonchai Chuwatana[14]
Tokyo, Japan
3(10)
KO
"Non-Title match"
9
WIN
9-0-0
1991-10
Yajima Yoshiaki[15]
Tokyo, Japan
1(10), 1:30
KO
JBC Middleweight Title Match
8
WIN
8-0-0
1990-10
Kazuhiko Hirano[16]
Tokyo, Japan
1(10)
KO
Ippo's First Match Attended
7
WIN
7-0-0
1990
Unknown
Tokyo, Japan
1(10)
KO
6
WIN
6-0-0
1989
Unknown
Tokyo, Japan
1(6)
KO
All Rookie King Tournament Finals
5
WIN
5-0-0
1989
Unknown
Tokyo, Japan
1(6)
KO
East Japan Rookie King Tournament Finals
4
WIN
4-0-0
1988
Unknown
Tokyo, Japan
1(4) 15 seconds
KO
Fast KO Win
3
WIN
3-0-0
1987
Unknown
Tokyo, Japan
1(4)
KO
2
WIN
2-0-0
1987
Unknown
Tokyo, Japan
1(4)
KO
1
WIN
1-0-0
1986
Sakura Kiyoshi[17]
Tokyo, Japan
1(4)
TKO
Pro Debut
Successions
Preceded by
Title
Succeeded by
Richard Bison
WBA Middleweight Champion
1998 - current
Incumbent

Undefeated

David Eagle
WBC Middleweight Champion
August 27, 1995 - current
Incumbent
Undefeated
Bryan Hawk
WBC Junior Middleweight Champion
December 20, 1994 - April 28, 1995
Unknown
Yajima Yoshiaki
JBC Middleweight Champion
October, 1991 - July 1993
Unknown
Unknown
All Japan Middleweight Rookie King
Unknown
Unknown
East Japan Middleweight Rookie King
Unknown
Appearance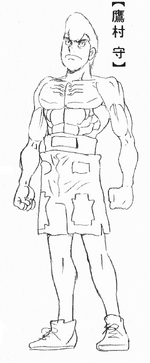 As of a stereotypical description of a Japanese delinquent, Takamura dons a curly pompadour while wearing his school uniform in a more laid back style with a few of the top buttons loose. His eyebrows are considerably thick and he has a tough looking face. Even before joining the Kamogawa Boxing Gym, Takamura had a very refined physique. Along with the Kamogawa training regiment, his body is even more refined, having bulging biceps, bulging pecs, and a hardened 6-pack stomach. While at the training camp at Nekota's place, he fought a bear, the encounter resulted in the three scars visible on his chest. Rarely, his hairstyle will change from his usual pompadour-style, to a messy hairstyle with his bangs dropped.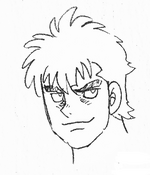 His basic attires consists of tank-tops and shirts of various colours, sometimes under an opened coat, and pants of various colours. His attire when he's doing roadwork consists of a navy blue sweatshirt with a hoodie and a shirt underneath with navy blue sweatpants. His boxing match attire consists of burgundy and dark azure boxer shorts with the name Mamoru written on it, it also has tags such as a label that has KB in red print, Takamura's hawk logo, and a flag of Japan. He also wears burgundy boxing shoes.
When ever Takamura struggles with his weight training, his appearance drastically changes. His stomach and ribs show through his skin, he gets chapped lips and wrinkles, and his skin begins to peel off.
Personality
Takamura has a broadminded, arrogant, outrageous, and incredibly cocky personality. However, other dimensions of his personality have shone throughout the series, the culmination of which is a concerned, insightful, ambitious man.
He is one of the most well-studied characters in the series, having on numerous occasions identified strategies and traits of different boxers in tangent with and sometimes even ahead of; Kamogawa. He has never fallen into an opponent's trap. Despite this, Takamura does not invent his own tactics during matches, which further exemplifies both his straightforward nature and his boxing talent. Because of this, while he's usually brash and devil-may-care both in the ring and outside of it, he is surprisingly pessimistic and level-headed when watching other boxers' matches, usually anticipating the difficulties his partners are going to encounter.
When Nekota snuck up on him underwater as a joke while at the beach, he ran away in fear believing it to be a real ghost. He also had a very Umezu Kazuo-like face when Tomiko used tarot cards to accurately guess how many times he had masturbated after a fight. There was also an occurrence where Takamura challenged Yagi to a fishing competition, resulting in a "No Takamura" sign to be put up next to a "No Yagi" sign. These are all indications of Takamura's deep belief in the supernatural and fear of the unknown.
Another less admirable trait of Takamura's personality is his perverted nature. He has a strong belief he is a ladies' man, despite rather obvious evidence to the contrary and despite fancying himself a ladies' man, rarely actually sees any action. This is due to his abrasive, perverted nature as he once made the newspaper by trying to force himself on a woman and her running away. He is not above spying on couples and groping women and getting peaks at women's panties. During his victory speech against Hawk, he says how the women of Japan should come to him so he may donate his sperm to him. In addition, he even often grabs the penises of his fellow boxers and makes inappropriate comments regarding them, particularly towards Ippo.
He also has a sister complex with his older sister, Kyōka and is tender towards older women such as Yamaguchi.
He can be a rather big bully to his fellow boxers and kouhai. He is fairly childish and egotistic, considering himself the best (which is in fact true) and hates being left out of events or people forgetting to invite him. He can also hold grudges, once attempting to set fireworks against Ippo and the others at the beach because they were shooting fireworks without him and showed a good time and only stopped when they appealed to his ego and said he should come because it wouldn't be fun without him. He can be petty and somewhat a bad sport, as Ippo manages to dodge his punch and right when Ippo is about to land a punch on him during a sparring match, Takamura (in a panic) elbows him (which is illegal in a boxing match).
Even during important matches he has a tendency to play around, such as by using Aoki's "Look Away" technique, labeling a regular uppercut the Beetle's Uppercut in a fight where he wore a beetle costume, and arguing with the spectators when they mock him. In spite of all of this, he is the one who got Ippo, Aoki, and Kimura into boxing, he is well respected at the Kamogawa Boxing Gym. Even though he constantly looks down on and ridicules their achievements, his unrivaled strength and rare moments of kindness have earned him respect from his fellow boxing juniors. He has also occasionally shown concern for Miyata Ichirō and seems to genuinely look forward to Ippo's rematch with him.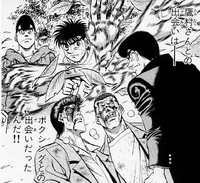 While Takamura says that most boxers are "small fries" and talks about them with patronising contempt, Takamura seems to be genuinely fond/proud of Ippo. He teases him less than the others and in more than one occasion has asserted that he and Ippo are on a different level than the rest of the boxers from the Kamogawa gym. Also, while he usually seems aloof and derisive of his coaches, it's shown (particularly during matches) that he thinks very highly of Kamogawa and his methods. Takamura seems to have unwavering trust on Kamogawa's teachings.
Despite pulling pranks on his gym mates, he is highly-respected, and is a reason Aoki, Kimura, and Ippo started boxing.
Abilities
Takamura is a right-handed Boxer-Puncher with the genius stat. He's the strongest known fighter in the weight classes he's in. He possesses a genius-level boxing talent, to such an extent that Kamogawa stated he was already stronger than the JBC Middleweight Champion when he was first found on the streets, and would've been capable of taking the World Title with or without Kamogaawa's teachings. In his title matches, Takamura showcased incredible power, speed, and durability through the guidance of Kamogawa. Takamura has an extremely destructive fighting style, focusing on constant huge swings that could KO any fighter, if not even kill them.
Counters are ineffective against him because most of his swings must be either dodged or met in an exchange, an exchange nobody dares to risk.
This fighting style goes hand-in-hand with Takamura's aggressive personality, his ego and his unbeatable arrogance. His anger in fact has such an influence on driving him in each of his fights that one could say anger is the core of his fighting style.
He has been shown to be the perfect combination of technique and instinct, being able to match world champion Bryan Hawk using both. However, brawling is noted to be his natural and most powerful style.
As a veteran boxer, Takamura (unlike many other characters) knows that aiming for the opponent's weakness is not a "dirty move". He has done and expressed it in several occasions.
He has also shown that he has the ability to mimic any move he sees or experienced like Bison's Flicker Jabs, Flicker Counter and Ippo's Tornado Jolt.
Techniques
Weaknesses
Takamura's one weakness is his arrogance and temper, as he is able to be easily provoked by many of his opponents, he also has in two occasions felt the compulsive need to finish his fights with 1-Hit KOs (Due to Miyata getting too much attention, and Ippo scoring a 1-Hit KO), which led to him almost losing against opponents a lot weaker than him.
Like Miyata, Takamura is constantly struggling with weight control, so he is prone to losing stamina slightly quicker due to fighting in weight-classes below his natural weight, which is approximately 195 pounds. Aside from that the only times Takamura has been in trouble is when an opponent reads his attacks, but he just keeps trying until he finds a way to connect.
In both his matches with Eagle and Bison, Takamura's right eye (or at least his field of vision on his right side) played a key role in his opponents gaining the upper hand. This suggests he may have a detached retina in his right eye, though this is not confirmed by the manga; Ippo confronted him about it at one point, but Takamura was able to convince him that he had no problems.
Gallery
Quotes
(Introducing Ippo to Kamogawa Boxing Gym) This is Makunouchi Ippo. He will be a member of this gym starting today." - Episode 2
(To Ippo on why he started boxing) "I didn't have anything else to do. I just sorta started doing it... And then, when the applause came pouring down, it was the greatest feeling." - Round 8
"The Japanese Title is just a stepping stone for me. What I really want is to become World Champion." - Episode 17
(Thinking about Hawk) "That cocky little mug. I bet you never lost a fight before, have you...? But that's because...I've never been...TO AMERICA!!"
(Thinking about Hawk) "You're strong, but your luck was bad. Curse the fact you were born in the same era as me!"-
(To Ippo) "We're like brothers, right? Just make the old man look good and we're cool." [18]
(To Ippo) "Everybody starts out as a nobody. That means you and me both started at the same spot. Something got us moving forward. Then we were off. A flat road with nothing on it. Then a sudden and steep incline. Eventually, it becomes a mountain climb over obstacles. Pushing everyone out of the way until you see the top. There's only footing for one person up there. When the last obstacle is gone. There you are. You get a view that only others who have made it that far can see, and everyone is trying to make their way up to see it. Don't call a place we all aim for some shit like lonely. Call it extraordinary." [19]
(To Ippo) "Whatever happens, your penis is heavy class! Stand Tall! Believe me Bigger ones win." [20]
(Talking about Itagaki's family) "Ultimate! No matter what you're talking about, the term 'Ultimate' is reserved for me, that family stepped over the line" [21]
(To Richard Fox)"This is called 'Hissatsu' and it means instant death!! Eat This!" [22]
(During Mashiba vs Sawamura match) "A Cat could lose to a dog and then leave it at just that, but there's no way a cat could accept losing to another cat!" [23]
(To Ippo)"Don't let it dickpress you too much." [24]
(To Ippo about losing) "Once you accept it, you're done. 'If only I hit him first here.' 'If I could have somehow dodge that.' No matter how small a point it is, you need to gripe about it." [25]
(To Ippo)"For a man to stand up again, he needs only one thing to make excuses. Not making excuses is a sign you've had enough. It means you're ready to hang it all up. Boxers who keep at it even though they seem like a joke, they still have that fire inside. Someone who's done this as long as the old man would know that."[26]
(To Ippo)"Past this line is the World...Cross it and you're dead. Past that line that's where only the real monsters can survive. Don't cross the line, if you want to stay human." [27]
Trivia
"Taka" (鷹), means "hawk". Hawks have been a common theme in Takamura's matches, having a costume based off of a hawk. His match against Bryan Hawk contained the self-generated pun Hawk vs Hawk, hence the official title being the "Battle of Hawk".
Takamura is modelled after Roberto Durán[28]

Similar to Durán, who knocked out a horse with his bare hands, Takamura knocked out a bear with his bare hands. Both animals got back up after being punched and both boxers got injured. Injuries being Durán's hand and Takamura's chest.

Aside from knocking out a bear, Takamura has also defeated a troupe of wild monkeys and lifted a small truck without breaking a sweat.
Takamura's opponents after Bryan Hawk, have names that has something to do with animals; most likely in contrast with his name, which means "Hawk".

Some of his opponent's names are a pun to famous cartoon characters like Mickey Mouse, Donald Duck, Peter Rabbit, etc.

Takamura has no prominent love interests in the series, but on one occasion Ippo visited his house and overheard numerous women berating him on his answering machine about previous dates and engagements.
In Chapter 944, Takamura single handedly took down Date, Sendō, Mashiba, Saeki and Okita in the bar right after his match against Peter Rabbitson.
Takamura is technically responsible for inspiring every professional boxer in the Kamogawa Boxing Gym (except Miyata) to join. Revenge against Takamura was the reason for which Aoki Masaru and Kimura Tatsuya joined the gym. He was also the person who brought Ippo (who was the reason for Itagaki Manabu joining) to the gym.
It is stated by the commentator that Takamura had his first down in his first title match.
Takamura's pro debut opponent hasn't been shown in the manga, only in the anime in Episode 76 - Boxer's Fist. Making Takamura's pro debut fight against Sakura Kiyoshi the only filler match in the series.
As of Round 1253, Takamura is so far the only Japanese Boxer that has been able to win a World title match. All other Japanese Boxers that try for it, end up losing instead.
References