Yanaoka (柳岡, lit. Yanaoka) is a non-recurring character in Hajime no Ippo.
He is a trainer at Naniwa Boxing Club and Sendō Takeshi's second. He was the one who introduced Sendō to the boxing world.
Backround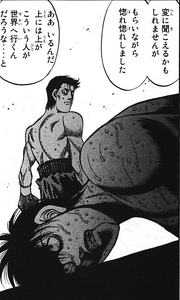 He was a professional boxer in Japan. During his career he was known to be a really good fighter in the ring, in which eventually he became 1st ranked in JBC, giving him the chance against the National Champion of that time which was Miyata Senior. He ended up losing fiercely by the early rounds. He later retired, but he still remembered the feeling from being knocked down by him.
After retiring he became a trainer at the Naniwa Boxing Club, in which he started training new boxers. He became a first class trainer and second whose skills are even recognised by Kamogawa Genji after his career.
Years later, a few of his trainees got beaten up by a delinquent named Sendō Takeshi (Who Yanaoka almost knocked out). After Sendō took part in another rumble, Yanaoka turned him onto boxing as a way to find the strength he hungered for.
Part I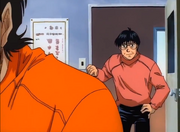 Looking for his boxer, Sendō Takeshi, Yanaoka discovered him looking at a video of Makunouchi Ippo's match against Mashiba Ryō. After hearing his boxer talk highly of Ippo, while claiming that the West Japan Rookie King Tournament was boring, he informed Sendō that Ippo is withdrawing due to injuries. This caused Sendō to go to Tokyo to talk to Ippo. After Sendō came back, he practised the Smash with Yanoka. After the practise, a package came in from Ippo, with a note that claimed he may be able to go to Osaka. This caused Sendō to get fired up and continue practising with Yanaoka.
At the Osaka Prefectural Gymnasium on the day of the All Japan Rookie King Tournament, Yanoka informed Sendō that Ippo got beaten by Komori. However, Sendō claimed that he would not underestimate him, but he will still win. When Sendō's match against Ippo began. Yanoka was his second. Before the fourth round could start, Sendō sat unconscious, unable to get back up. Yanoka realised that he was unconscious due to a hit to the temple, but was fighting because of the cheers. Sendō came back to consciousness and asked Yanoka how he lost, but Yanoka told him that it was a splendid fight.
Part II
Match History
| Result | Opponent | Type | Rd., Time | Date | Location | Notes |
| --- | --- | --- | --- | --- | --- | --- |
| LOSS | Miyata Senior | KO | Unknown | ca. 1980 | Japan | Unknown |
Trivia
Although it is yet to be revealed in the manga, the anime lists him as "Yanaoka" in the credits. One of the video games also lists his full name as Yanaoka Kazuhiro.