Kazuhito Yasukawa (安川和仁, Yasukawa Kazuhito is a non-recurring character in Hajime no Ippo.
He is a featherweight boxer who partook in the East Japan Rookie King Tournament and lost to Hayami Ryūichi in the quarter-finals.
Part I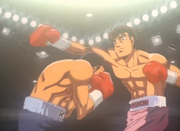 Kazuhito partook in the East Japan Rookie King Tournament where he fought and won against Yamanaka Naoki in the first round, proceeding to the quarter-finals where he was matched up against Hayami Ryūichi. When the match started, he was keeping Hayami away and dodging his attacks, however when Hayami's punches were getting faster, Kazuhito stepped in and got hit by a short uppercut. He was unable to withstand Hayami's Shotgun that came at him next, losing the match with his face battered in the first round by knockout.
Match History
Appearance
Kazuhito is a young man with short brown hair and black coloured eyes. His attire in the ring consists of navy blue boxing shorts with "KAZU" on his name slot and his initials, "K.Y" on the front on the bottom.
Personality
Kazuhito is an individual who is confident in his abilities. However, he can get overconfident, resulting him in doing a reckless action that leads him into losing a match.
Boxing Abilities
Kazuhito is an hybrid boxer that was considered one of the best during his amateur high school days with good technique and feints.[1] He also has good defence, dodging Hayami's punches, who is known for his fast hand speed, however, he is unable to dodge the Shotgun.
Galley
References
Community content is available under
CC-BY-SA
unless otherwise noted.